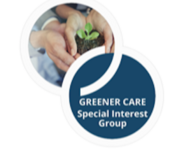 Climate change poses a major threat to our health as well as our planet.
The environment is changing, that change is accelerating, and this has direct and immediate consequences for our patients, the public and the NHS.

To support the 'For a greener NHS' programme we have launched this campaign page.

A place where we can share innovations and solutions that are being used within health and social care, sharing ideas on how to reduce the impact on public health and the environment, save money and – eventually – go net carbon zero. This page will bring together a growing library of ideas and solutions to help you with your carbon footprint.
For more information about the IHSCM Special Interest group click on the image above.