Community Integrated Care supports more than 3500 people who have learning disabilities, autism, mental health concerns and dementia across England and Scotland. In February 2018, it announced a ground-breaking national partnership with the Super League and RFL to help shape new community programmes across the sport, including the creation of the pioneering Community Integrated Care Learning Disability Super League.
The charity has commissioned the foundations of the two Yorkshire clubs to deliver a host of initiatives that will improve the health, happiness and social inclusion of the people they support. With regular sports and activity sessions, the promotion of life-skills through volunteering and training, and special matchday experiences, these programmes will make a profound difference.
To celebrate their partnership, Leeds Rhinos Foundation invited 40 people from the charity to their inaugural home game of the 2019 Betfred Super League Season, against Wakefield Trinity on Friday 1stMarch. With a pre-game accessible sports session, the chance to help lead the Super League stars onto the pitch, and a half-time lap of honour in front of thousands of supporters, the club provided an unforgettable day.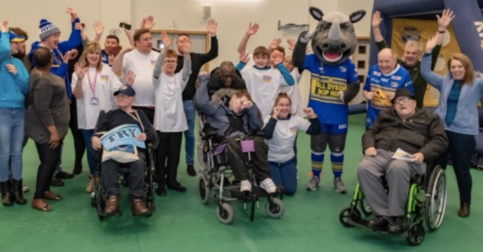 This was followed on Wednesday 6th March by Wakefield Trinity Community Trust delivering a special launch at the Mobile Rocket Stadium, which was hosted by CEO, Michael Carter, Head Coach, Chris Chester, and Trust General Manager, Craig Shepherd. With the chance to spend time with Super League stars Danny Kirmond, Tom Johnstone and Danny Brough, a behind the scenes tour of the famous stadium, and a special activity session, the partnership launched in style.
Marc Brodie, Managing Director of Community Integrated Care in the North East, says: "These new collaborations will make an incredible difference to the lives of the people we support and reward our dedicated colleagues too, who are real unsung heroes in society. Rugby League is a true community game, and it is because of the values of the sport that we can commission programmes as ambitious as these.
Both Leeds Rhinos and Wakefield Trinity have shown real passion in making a difference. With Leeds Rhinos being recognised as the Foundation of the Year at the 2018 Man of Steel Awards and Wakefield Trinity being pioneers of learning disability rugby league, we know that we are working with two clubs who live and breathe community spirit. We are excited about how these collaborations will develop in the future."
Gareth Cook, Head of Community and Engagement for Leeds Rhinos Foundation, says: "We are delighted to be partnering with Community Integrated Care to deliver the Learning Disability Super League programme across Leeds as well as physical activity and wellbeing sessions for people supported by the charity and their colleagues. Leeds Rhinos Foundation currently delivers a wide range of provision for both adults and children with learning and physical disabilities and this provides an inclusive pathway to represent this great club."
Craig Shepherd, General Manager at Wakefield Trinity, says: "We're looking forward to how fruitful the partnership can be in the future, providing opportunities across the region and opening up the sport to everybody. This gives more people the chance to be involved, feel included and become a true part of the club."
The partnerships have also been supported by the club's Community Integrated Care Learning Disability Super League Ambassadors - Rhinos forward, Jamie Jones-Buchanan, and Wakefield winger, Tom Johnstone.
Jamie Jones-Buchanan says: "Having seen the impact of Community Integrated Care's creation of the Learning Disability Super League, I am truly excited by this new partnership between the charity and Leeds Rhinos Foundation. Rugby League has always been a diverse and inclusive game and Leeds Rhinos have become a real hub at the heart of our community, seeking to "change lives through sport" through the work of Leeds Rhinos Foundation. This partnership is a perfect fit for our vision and aspirations."
Tom Johnstone adds, "It was fantastic to meet the team from Community Integrated Care and to see how excited everyone was to be part of this launch event. It is incredible to see how Wakefield Trinity and rugby league can help change people's lives, and I am sure that this partnership will be a real success.
I was delighted to be asked to represent the club as its Ambassador for the Community Integrated Care Learning Disability Super League. Wakefield Trinity have led the way in supporting Learning Disability Rugby League and I am excited to see how our team will continue to progress in the future."