This illustrates our Gold QI project, 'Transforming POAC into Peri-Assessment' which has been fundamental in progressing our journey of service transformation.
Background / Problem
Historically, the Pre-Operative Assessment Care (POAC) team have seen elective surgical patients too close to surgery to enable optimisation causing last minute cancellations, an increased rate of complications, length of stay and readmissions.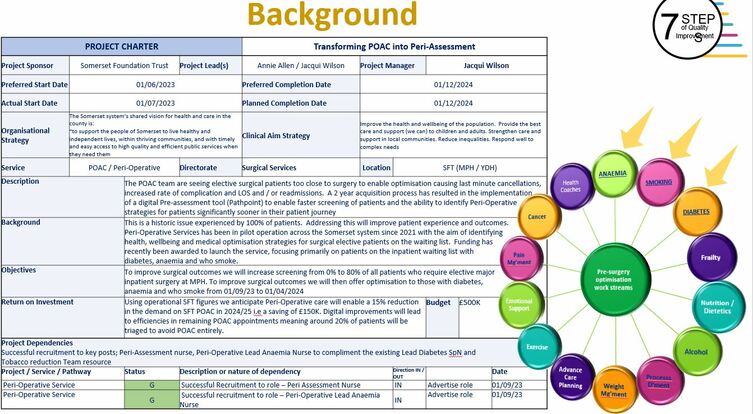 A 2-year acquisition process has resulted in the implementation of a digital Pre-assessment tool (Pathpoint) to enable faster screening of patients and the ability to identify Peri-Operative optimisation strategies for patients significantly sooner in their patient journey. We recognised that addressing the issue of patients being seen too close to their surgery and, the ability to optimise patients earlier in their pathway will improve patient experience, clinical outcomes and better population health management.
Aim
Peri-Operative Services has been in pilot operation across the Somerset healthcare system since 2021 with the aim of identifying health, wellbeing and medical optimisation strategies for patients on the waiting list. The aim of the service is to facilitate patient-centered, integrated medical care of patients from the moment surgery is contemplated through to full recovery and beyond. We have engaged over 1000 patients into 65+ PSDA cycles across 14 developing Peri-Operative workstreams with over 300 patients already reaching their target goals.
Following successful funding of a business case in early 2023 we achieved authorisation to move out of pilot phase to launch a Peri-Operative service to pre-screen and optimise smoking, diabetes, and anaemia. This funding enabled recruitment of key personnel to identify, assess, optimise, and support patients through a surveillance program prior to surgery.
We recognised the equal importance of supporting patients in all wellbeing factors including smoking and alcohol reduction, mental health & wellbeing, increasing mobility / exercise, improved nutrition and weight management and have included these strategies into the service.
Measures
Our goal is to demonstrate substantial process improvements, enhanced outcome measures, and service improvements by April 2024.
To realise these surgical outcomes we set ourselves an aim to increase screening from 0% to 80% of all patients who require elective major inpatient surgery at Somerset NHS Foundation Trust (SFT).
We aim to achieve a 15% reduction in the demand on SFT POAC in 2024/25. Digital improvements will lead to efficiencies in remaining POAC appointments meaning around 20% of patients will be triaged to avoid POAC entirely.
Spread
The enhanced Peri-operative service will, over time, transform existing POAC resource to further develop the new Peri-Operative service.
In the future, a patient who has undergone a 45–60-minute Peri-Op assessment (at the earlier point of their patient journey following a decision to treat), will only then require a 20-minute POAC appointment, for final pre-surgical checks including bloods and observations.
Summary
Our Gold QI journey reflects the benefit of utilising Pathpoint within the sphere of early patient identification, early screening, data capture, patient and colleague experience and brings together 2 services; POAC & Peri-Operative Services working toward our Quadruple aim of health outcomes, lower costs, colleague experience and patient care.
The graphical representation of a helter-skelter embodies our QI journey—a ride of anticipation, challenges, faith, and achievement (click on the image to read and download)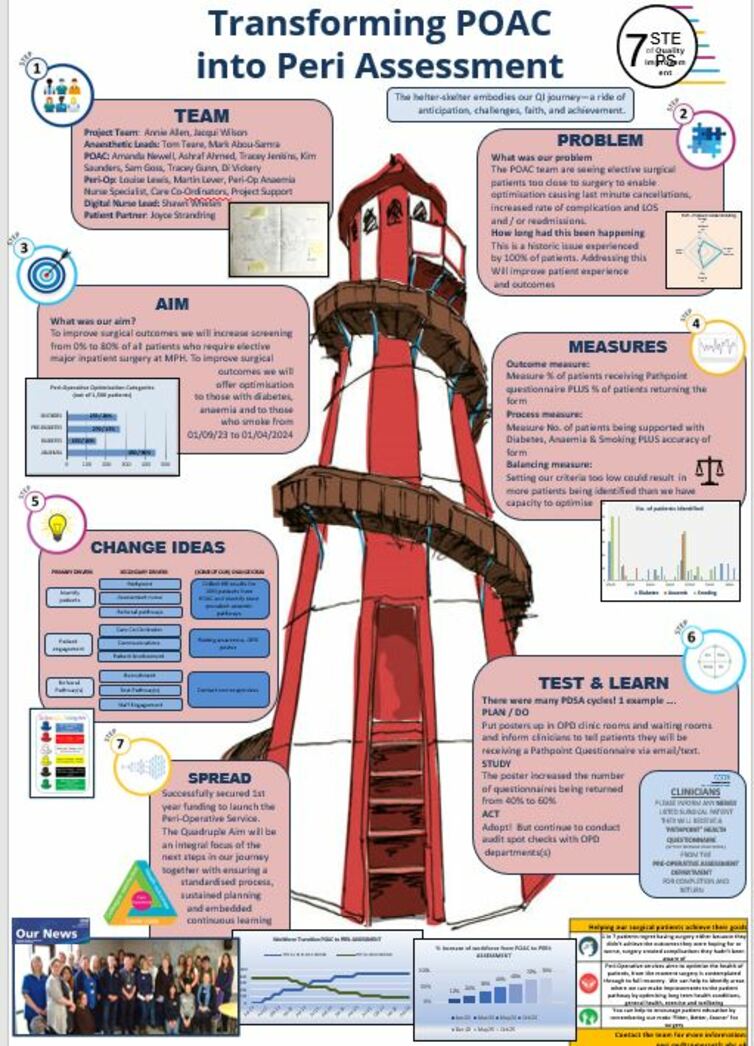 You can download the full project report HERE