In Dec 2017, Buckinghamshire Healthcare NHS Trust (BHT) introduced the role of Medical Examiner (ME) amongst a group of

consultants. The role of ME supports accuracy in death certification, referral to the coroner and provides early detection of any clinical governance concerns whilst placing the bereaved at the centre of the service.
The ME Service is an unprecedented opportunity to develop a system that provides independent scrutiny of adult inpatient deaths, works in partnership with families and carers and aligns with the learning from deaths programme as supported by NHS Improvement. Cases are selected by the ME for structured judgement review (SJR) a validated methodology with the primary aim of quality improvement.
Our Results within One Year of Launch
• 99.8% compliance with ME screens for Adult Deaths at BHT
• 1189 deaths underwent independent consultant review
• Annual mean selection for SJR 12% in line with national expectations
• 88% of cases identified as having no care problems
• 535 compliments from relatives 34% resulting in excellence reporting
• SJR compliance increased to 81%
• Increased accuracy in death certification
• Improved support for Junior Doctors validated by staff survey
• Local agreement with the Coroner leading to 25% reduction in referrals
• GP DOCGEN notification compliance 24% Aug 2017 up to 75% Dec 2018
• Definition of care problems adopted from 1st Jan 2019 moving away from avoidability ratings
What did we Learn and what did we Change?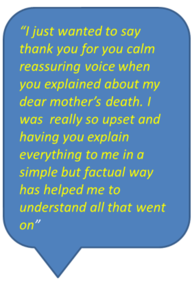 • Feedback from relatives overwhelmingly positive with compliments an
d examples of outstanding practice relayed to ward teams.
• Deteriorating patient initiatives included action plans to address sepsis recognition and treatment with improvements in Q3 compliance.
• Care of the deteriorating patient focused on vital signs monitoring, early senior medical review with NEWS2 and electronic observations implementation.
• Enhanced focus on the care of learning disability patients including best practice guidance, health passports, communication aids, focused training and specialist input from learning disability nurses to guide treatment.
• ME screens have led to identification of inherited disease with importance for the care of family members.
• Increased awareness of timely DNACPR decisions and treatment escalation plans (TEP) with BHT moving to universal TEP adoption.
• Actions leading to improvements in end of life care, promoting patient choice, and personalised care plans in hospital and the community.
The Future
As an integrated care system, BHT works with the local authority, coroner's office and registrar. We have linked with our clinical commissioning group (CCG) and disseminated relatives feedback to primary care to ensure the patient journey is improved within the community as well as in hospital. The BHT ME Service were HSJ Finalists 2018 in the category of patient safety and published a case study in the Royal College of Physician's 2018 mortality report. BHT have a model for adoption attracting interest from across the country. Our lead Medical Examiner is the clinical lead for the Oxford Academic Health Science Network Mortality Group which co-ordinates learning from this patient safety initiative. The introduction of a national medical examiner is due to commence April 2019, with BHT playing a leading role.