Annie Prime is an improvement Manager with the NHS Emergency Care Intensive Support Team (ECIST). She has a background in nursing and operational site management.
She's created a set of guiding principles to help teams standardise operational site management – the FOCUS model (see attached slide set below)


The 5 guiding principles of the FOCUS model for site management
F - Front door position and triggers - current position and actions.
O – Operational oversight and management of whole hospital constraints.
C – Challenge patient plans and pathways.
U – Understand actions required and agree accountability.
S – Site plans, escalation and report.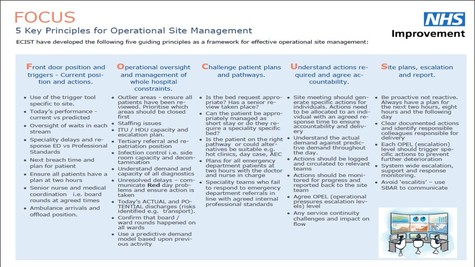 Contact: [email protected]
Twitter: @ryanannie74