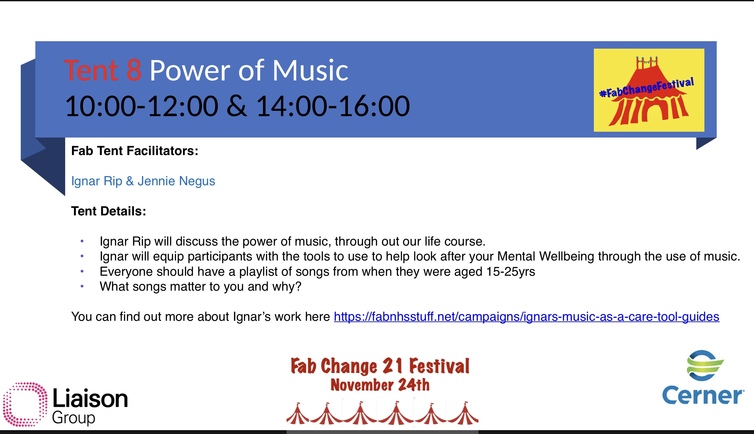 Tent 8: The Power of Music
To Learn More, please do contact Ignar on [email protected]
Discussion summary from The Power of Music Tent:
'when my dad was at end of life. I suddenly had the idea of playing his favourite country and western music. I have some very special memories of my severely ill dad smiling and singing along to Dolly Parton. Now I have her songs on my playlist and Islands in the Stream particularly takes me right back to those few days with my dad'
'I sooooo regret not thinking of it earlier I feel I wasted so much time sitting with him trying to make small talk without him engaging with me'
but he knew you were there
'The expectation that we can be immersed in suffering and loss daily, and not be touched by it, is as unrealistic as expecting to be able to walk through water without getting wet. (Remen RN. Kitchen Table Wisdom: Stories That Heal. Sydney: Pan Macmillan, 2002).'
Ignar knows even if no-one else does!
The Thank You's:
I really enjoyed that thank you. It has given me lots to think about! I will revamp my playlist tonight!
done with love
bye thank you
You can watch the video from this tent - it's a fantastic session which is engaging and full of great suggestions and playlists.

You can find the FabChange21 Festival playlist HERE

Ignar has also made you a Christmas playlist which you will find here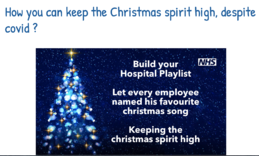 And this is a simple guide to help you bring Christmas cheer to your team/service by developing your personalised playlist
You can find all of Ignars resources on the fab website on his own page HERE