Hepatitis C is a blood borne virus which can cause serious damage to your liver.
If left untreated, it can lead to life-threatening harm.
The virus is spread through exposure to infected blood and the symptoms can go unnoticed for many years.

Our Aldershot community drug and alcohol service recognised that there were missed opportunities to offer hepatitis C testing to our patients.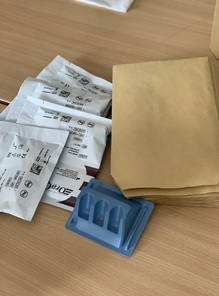 We partnered with Surrey Hepatitis Network Operational Delivery Network based at
Royal Guildford Hospital to send out oral swab kits to test for hepatitis C antibodies.
In total 65 patients completed a test with 62 being negative and 3 new diagnosis's were made.
Out of these 3 patients one went on to access and complete their hepatitis C treatment.
One has spontaneously cleared the hepatitis C virus and one is awaiting further diagnostic tests.
This is an excellent initiative which has reached people in a completely new and innovative way, resulting in at least one case of liver disease being avoided.
Along with this everyone of the 65 patients was given up-to-date and current information about testing and harm minimisation advice
You can read further details about the service HERE