A newly formed Knowledge Transfer Partnership (KTP) will develop and embed new behavioural science capabilities, to enable HCI to enhance their leading CONNECTPlus app with innovative capabilities to support patient outcomes and better healthcare delivery.

HCI, the people behind the national Health and Care Video Library that was supported by NHSX during the peak of the COVID-19 Pandemic, will draw upon the University of Exeter's academic expertise in digital interventions to support behaviour change to develop a deeper understanding into self-management best practice, and how to embed and apply this knowledge to all existing and future health conditions supported by CONNECTPlus.
Using new mixed methods research and behavioural science capabilities, the collaboration will allow the assessment of user engagement far beyond platform usage statistics by:
- Conducting research to provide data about how users engage with CONNECTPlus including any barriers to effective engagement
- Creating condition specific theories of change and logic models for health conditions
- Collating evidence on the self-management of specific conditions to make evidence informed decisions regarding self-management behaviours.
The project will focus on patient engagement and self-management behaviours in multiple long term conditions.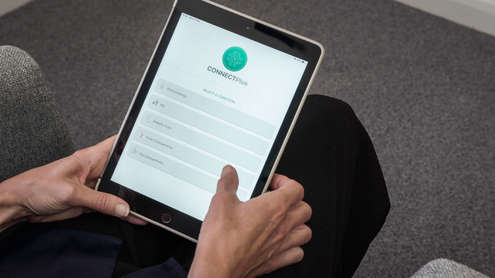 HCI Founder and Director Richard Wyatt-Haines says
"CONNECTPlus is already supporting many patients to manage their health at home and that is resulting in a reduction in
unnecessary appointments and phone calls, leading to time and cost savings for healthcare providers and patients.
We want to ensure CONNECTPlus continues to encourage and support patient-driven behaviour changes that are required to improve health on a national scale'
This KTP will ensure that research is at the heart of what we do and that we can then use it continuously to drive and build a better product based on facts and data."
HCI will now work closely with Dr Jane Smith, a Senior Lecturer in Primary Care within the Exeter Academic Primary Care Collaboration (APEx) at the University of Exeter Medical School, Dr Samantha van Beurden, Postdoctoral Research Fellow with a background in psychology and behavioural medicine, and are currently recruiting a postgraduate, who will act as the main research associate on the project. If you are interested in finding out about this role please visit https://www.ktp-uk.org/job/beh...
The project will run for 2 years and HCI are keen to talk to you if your department or hospital would be interested in using CONNECTPlus with your patients and becoming one of their test bed sites. More information on the app can be found at www.connectplus.digital and you can contact [email protected] to express your interest.