The Eden Caseloading Team is a new pilot team being introduced at Lancashire Teaching Hospitals NHS Foundation Trust to improve continuity of carer for expectant mothers and their families.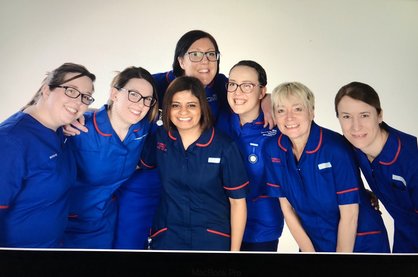 The team has been introduced in response to the recommendations from the national Better Births review which aims to improve outcomes of maternity services in England over a five year period. A key aspect of this work is to provide continuity of carer in order to ensure safe care, a reduction in intervention and to improve maternal and neonatal outcomes and experiences based on a relationship of mutual trust and respect in line with the woman's decisions.
Kim Parekh, Team Leader for Caseloading Midwives at Lancashire Teaching Hospitals, said: "We are one of the few maternity services nationally to have started a specific caseloading team.
The caseloading team consists of seven midwives who will be the named midwives for around 280 women per year in a specific geographical area. The midwives work flexibly and provide 24/7 on-call services as a team. They see the women from the beginning of the pregnancy, during labour and then postnatally."
Research shows that women receive improved support and education around childbirth and infant feeding if they have the opportunity to get to know their midwife at the beginning of pregnancy and throughout the whole journey. There is also less need for medical intervention, less need for regional anaesthetic, and a stronger sense of satisfaction and personal control.
Caseloading is a way of working that enables midwives to experience all areas of midwifery practice and to work as autonomous practitioners whilst working cohesively with the multi-disciplinary team. The midwives will get to know the women and their families really well and is a very satisfying way of working for all involved.