Knowledge and attitudes around Lesbian, Gay, Bi-sexual, Transgender (Plus) issues appear to be improving all the time, with visibility and representation of this group more commonplace in the media and in general.
However, when we stop and look at the statistics regarding the healthcare for this group, it becomes clear that there are still needs that are not being met particularly with their mental health.
60% of LGBT people who've experienced a hate crime based on their sexual orientation and/or gender identity have also experienced depression.
46% trans people have thought about taking their own life in the last year.
61% lesbian, gay and bi and 84% of trans young people have self-harmed.
Worryingly, LGBT+ people can be reluctant to seek healthcare and support due to perceived prejudice with 32% of trans people saying they have experienced unequal health care.
This two and half hour workshop explores the experiences and needs of LGBT+ patients.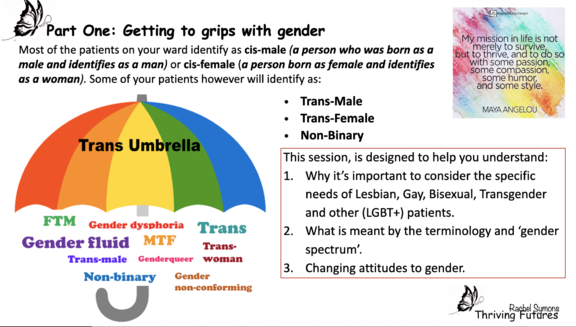 Session one examines the importance of addressing the needs of LGBT+ patients, what we mean by the term 'gender' and how this differs from 'sex', and demystifies the confusing terminology around transgender.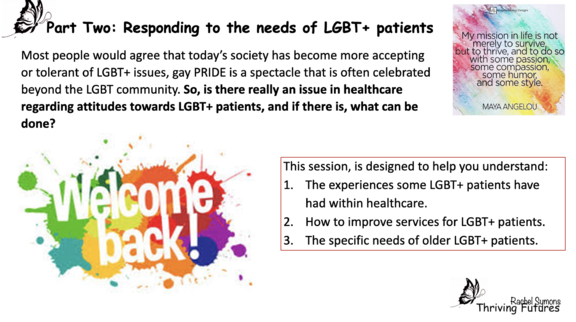 Session two looks at the experiences some LGBT+ patients have had within healthcare before exploring how services can be improved in addition to examining the specific needs of older LGBT+ patients.
You can read and download the full presentation HERE