Hosted in the iconic nightclub, Garlands, members of staff and teams unleashed their inner pop stars to
raise much needed funds for various departments in the Trust, including the breast unit, stroke unit,
urology and dementia services.
The competition is based on the American television show Lip Sync Battle, where acts take to the stage to
win the hearts (and more importantly, votes) of the judges and audience. R Charity were inspired to host
their own version featuring NHS staff, patients and supporters, and acts included members of the staff
performing as The Nolans, Pete Burns and the Spice Girls. Needless to say, the audience were left with
stars in their eyes!
Trust staff took part in weeks of rehearsals, complete with choreography compiled by students at the Liverpool Institute of Performing Arts, who also performed as back-up dancers on the night. Garlands also added a touch of sparkle with their glamorous drag queens.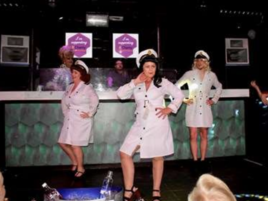 After an evening of thrilling entertainment hosted by Radio City's Simon Greening, the stroke and physiotherapy team performing Christina Aguilera's Candyman were the winners of the audience vote.







Celebrity judges, actress Tina Malone from Channel 4's Shameless, and celebrity hairdressers Nick Malenko and Royston Blythe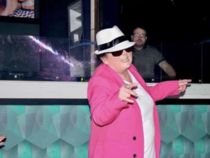 from the Real housewives of Cheshire, crowned their winning act of the night as R Charity fundraiser, Angela McShane, as Bruno Mars in Uptown Funk.

It certainly was a night that the Trust will remember, and one that wouldn't have been possible if it wasn't for our fantastic staff signing up to take part and those purchasing tickets to watch," said Lauren Davies,
head of fundraising, who also took part at Lady Gaga.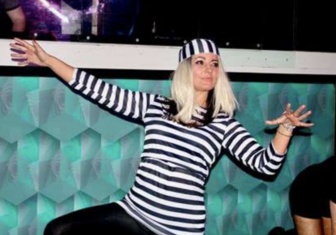 "We also give a special thanks to Garlands for supporting and hosting this event, and to LIPA, whose
students took the time to choreograph the routines of all of our participants. I think we can all agree it's
been a fantastic evening."
"Our amazing performers raised over £8,000 in total, including a generous donation of £1,000 from Nick
and Royston, all of which will go to making a real difference to the lives of the patients we treat at our
hospitals."
Jamie Barr, representative of Garlands, said: "We are delighted that the Lip Sync for your Life event at Garlands was such a huge success, especially as the charity is something that is so close to all our hearts -not only for everyone here at Garlands but throughout our community
Sarah Baker, head of dance at LIPA, said: "We were so pleased to be involved in this event, it's been a
great opportunity for our students to take part in and we're pleased to hear it's raised so much for the
hospital."
Would you like to take part in a fundraiser for R Charity? Every single penny helps us care for our
patients. You don't have to organise a star-studded concert to help - if you would like to get involved and
raise funds for the Royal Liverpool and Broadgreen Hospitals, you can contact the fundraising team on
0151 706 3153 or email [email protected]