The world was hit with a pandemic, and the Whittington Health electronic prescribing and medicines administration (EPMA) team had to act fast to roll-out electronic prescribing in its Outpatient Clinics and the Adult Emergency Department.
Whittington Health had historically used paper prescriptions throughout its outpatient clinics and an electronic prescribing system for its inpatients. With patients no longer able to physically attend their hospital clinic appointments due to COVID-19, the Trust had to look to new models of care such as telephone consultations in order to ensure continuity of patient care. The EPMA team were asked to support the supply of medications from these telephone clinics by enabling clinicians to prescribe them electronically. This would prevent the patient needing to visit the hospital outpatient pharmacy for supply of their medications, thereby eliminating the risk of infection.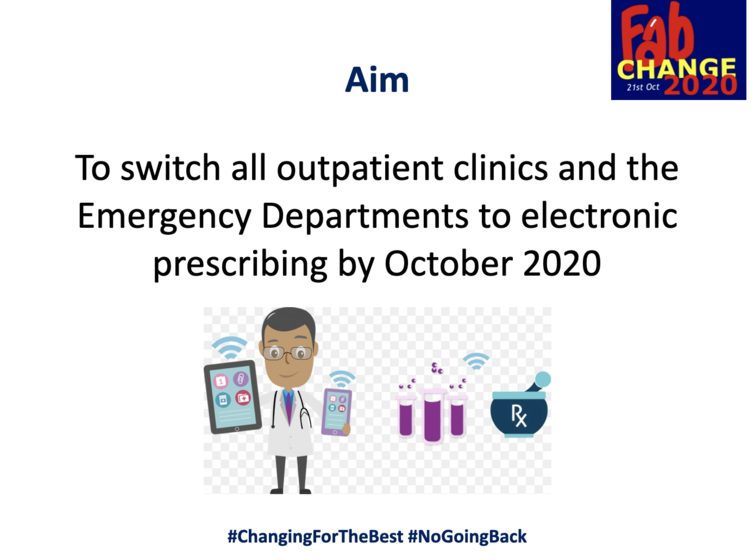 The EPMA team organised training sessions, advertising them over a variety of platforms. Stakeholders were engaged with a focus on the benefits of electronic prescribing such as improved infection control, decision support and enabling a complete virtual appointment pathway. Socially distanced face-to-face training sessions were held with virtual sessions for clinicians who were shielding or working in community sites. Virtual training was novel to the team; they swiftly adapted to using the software and assisted clinicians in setting up the software at home. Two-hundred staff members were trained to use the system over a six week period. Implementation meant that 77% of the Trust now use electronic prescribing compared to 30% previously.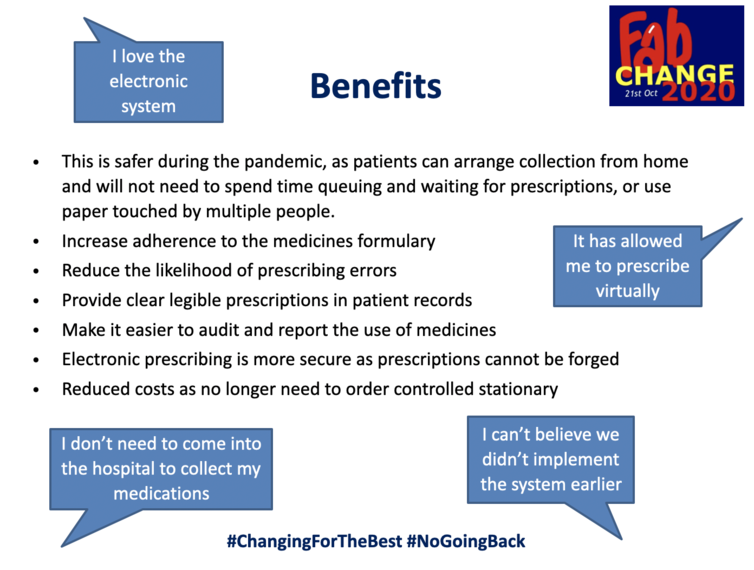 A major challenge faced during the implementation included some clinicians failing to engage with the transformation; this was overcome by delivering one-to-one sessions and focusing on showing the clinician how the electronic system could benefit their particular area of practice. Once they were shown how to use the system and the benefits afforded through use of an electronic system, they were more engaged in the adoption. Post implementation support was felt to be critical and the EPMA team were available to answer queries from clinicians via bleep and email.
Eight weeks post implementation, a survey was sent out to all outpatient prescribers to feedback on the electronic prescribing process; this was very positive. Patient views were also sought on the virtual clinics, electronic prescriptions and delivery of medications. They were generally very pleased with the whole service as it meant they did not have to put themselves at risk by visiting the hospital.
Feedback obtained from outpatient pharmacy staff included more complete prescriptions and improved legibility on the electronic system compared to paper. Staff also felt safer as the infection risk was reduced, and they were able to contact patients once their prescriptions were ready to determine the best course of action for patient's to obtain their medication; this included the use of the NHS volunteers and courier services, together with a drive-through.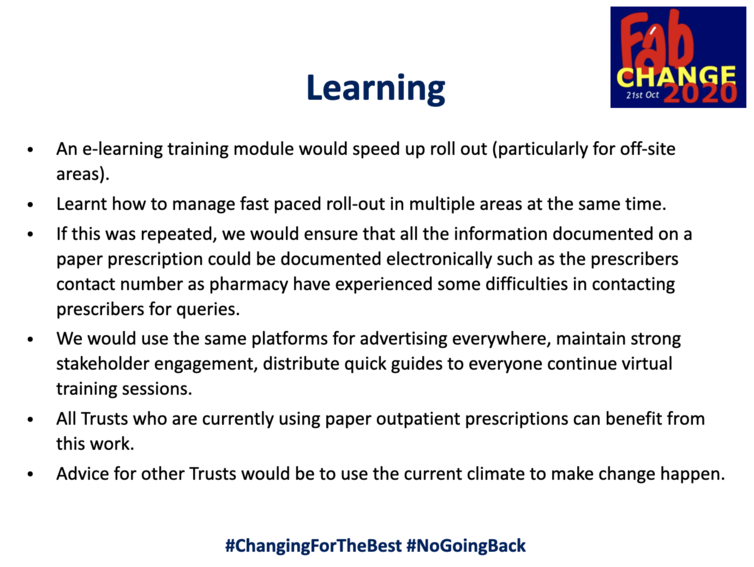 Implementation has allowed the Trust to save £5000 per year on purchasing paper prescriptions, improved patient safety and resulted in a more efficient service for our staff and patients.
You can download and read the full presentation HERE