Background & Problems
My project was undertaken within the paediatric ward involving our MDT led by our Consultants.
The project required a restructuring of ward handovers and an agreed system for the consultant ward round that each Consultant would follow.
Aim
To achieve compliance with the Paediatric SAFER SORT round to above 60%
To improve the proportion of patients identified for discharge at 09.00 handover who are discharged by 13.00 to over 60%
Method
Develop a structure for paediatric SORT ward rounds with medical and nursing teams based on the SAFER model
Produce an audit tool to be used at each handover to enable patients to be identified and progress monitored throughout day. This will provide data on numbers discharged within time frame and potential "blockages" in the system
Complete a baseline data collection prior to the introduction of the SORT round for two weeks.
Collect information (data) on a daily basis using the paper audit tool. The completed sheets are collected on a weekly basis by the project leads.
After two weeks using the SORT tool – consider any adaptions following discussion with the project team. Continue the revised process until all Consultants have completed one cycle of on call weeks.
Results
The baseline data showed a median of 65% of patients identified as fit for discharge left the ward before 13.00. This increased to 75 % immediately following the introduction of SORT and a median of 100 % was achieved following additional clarification two weeks after its introduction.
Implications
Children are now waiting in hospital for shorted periods of time pre discharge using a criteria that has protected the safety of children whilst improving patient flow.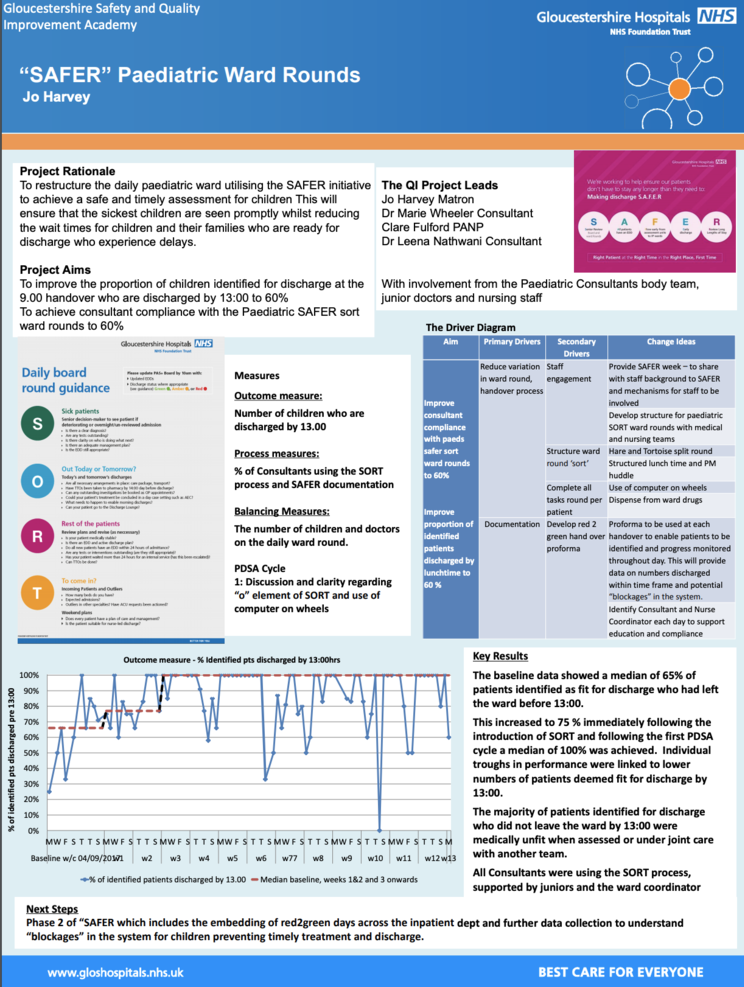 For further information https://www.gloshospitals.nhs....
Next Steps:
Repeat data collection in January to ensure change is embedded in practice
Red2green days are currently being implemented.
Quality Improvement Presenter(s)
Jo Harvey Matron Inpatient and Outpatient Paediatrics
Quality Improvement Team
Dr Marie Wheeler Consultant Paediatrician
Dr Leena Nathwani Consultant Paediatrician
Diane Spiller Ward Manager Paediatrics
https://www.gloshospitals.nhs.uk/work-us/training-staff/gsqia/quality-improvements/implementation-adapted-safer-ward-rounds-within-paediatrics-reduce-waiting-times-discharge/