Background & Problem
Critical illness results in extended physical and psychological ill health and poor quality of life. Follow up services have been shown to improve awareness of long term effects of recovery and improve self confidence. There is currently no follow up service available in Gloucestershire.
Aim
6 patients attending two support group meetings available to all patients undergoing ICU treatment for critical illness in Gloucester and Cheltenham by August 2018.
Method
Following ICUsteps Guide for developing Support Group. Steps include: information gathering and literature review. Identify stakeholder group, hold initial stakeholder meeting and identify aims and support needs of patient group.
Results
Information gathering completed. Stakeholders identified. 18 people attended first meeting. Patients attending felt they had an improved understanding and felt less isolated. Second and third meeting dates booked.
Implications
Insight into patient experience and that recovery journey doesn't end when a patient is "medically fit for discharge". Impact of lack of follow up and rehab services.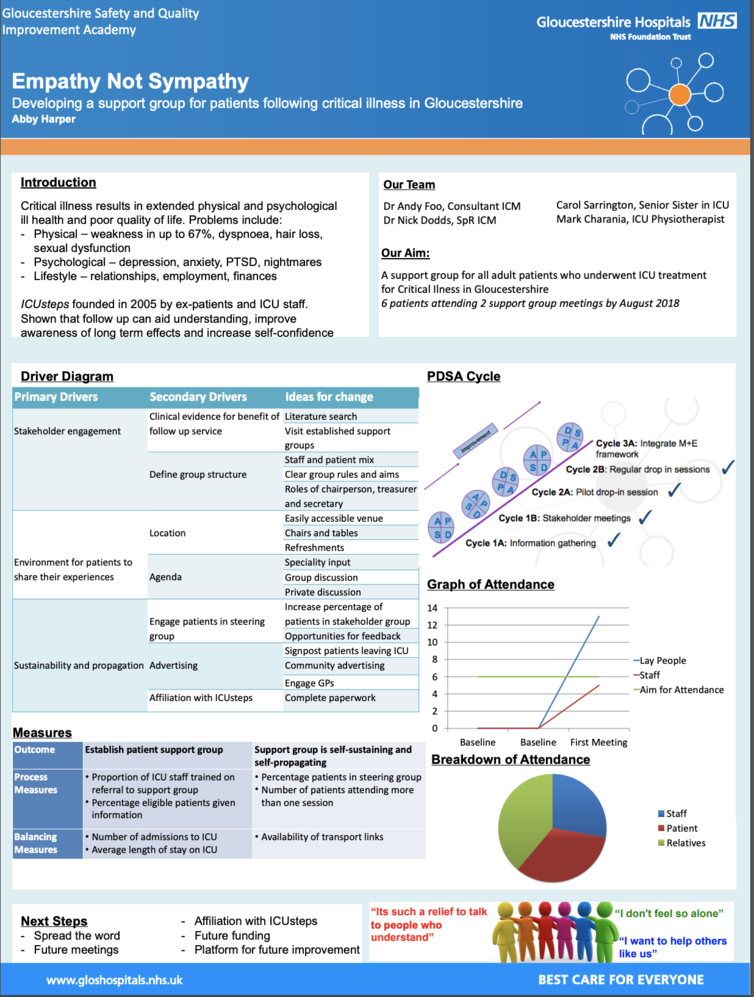 Quality Improvement Presenter(s)
Abigail Harper
Quality Improvement Team
Andy Foo
Carol Sarrington
Nick Dodds
Mark Charania