Its just 43 days until #FabChange19
Every individual, organisation and department is at a different point in their quality improvement and sharing journey.
So this year FabChange19 will reflect that.
The key is participating in a way that works for you with the focus on engaging, adopting and sharing.
The unique difference this year is :
You can pledge
You can share what you are doing even if it's not completed
Celebrate your organisations work with market-place events to share initiatives with your workplace.
Amplify sharing and learning how ever you choose
There are no fixed campaigns or themes, there is no fixed way to participate - the choice and decisions are yours. Chose what is important where you work.
Maybe have a read of the 'how to' guide? - you can find it in full here
Want some ideas about what you might do? Have a read of this update from PAH and get inspired
We'd like you to start sharing with us what you are doing. We have pledge templates and share templates to make it simple for you -
You can find them all here
Tell us what you are planning on the day or in the run up to #FabChange19 on the 16th October

We have made it really simple to share on the website

Step 1 www.fabnhsstuff.net

Step 2 Click on the red lozenge on the home page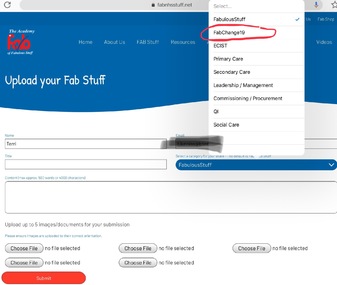 Step 3 Pick the FabChange19 option from the dropdown menu
Step 4 Share away - it can be your pledge, your outcomes, your work to-date. It can be jpeg images, PDF's video links and links to other websites
You will be able to find all the #FabChange19 shares all together on this page, so no searching needed, all the inspiration you need at the touch of a button.
If you'd like to have a chat with a local FabAmbassador just drop us a note just drop us a note and we will put you in contact.
Fancy being with us on the day to showcase the work of your organisation? We'd love to have you with us on the day, we have a number of speaker passes for the GIANT Health Event and have also been given a great discount code for Fab readers and you can find out all the details of how you can join us here