East Lancashire Hospital NHS Trust (ELHT) held their annual Health & Wellbeing event at Royal Blackburn Hospital on Wednesday 22nd May 2019. It's a full day event where there are lots of information stands and activities promoting services including Quit Squad -smoking cessation, electric bikes, Unison, walking activities to name a few. The Trust library service has always taken the opportunity to attend these events and promote our wellbeing resources to support staff; however, this year it was done slightly different.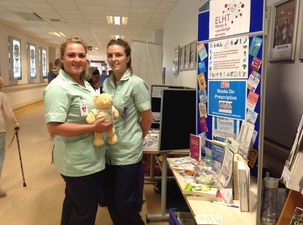 The newly appointed Head of Library and Knowledge Services at ELHT, Abbas Bismillah had recently met with Adele Karwat, Service Manager: Libraries and Archives (Public Health and Wellbeing at Blackburn with Darwen Borough Council) and together discussed how our staff, patients and members of the public could be supported in obtaining the health and wellbeing information. The H&W event seemed the ideal opportunity for BwD libraries to join us and showcase what both of our services could offer.
Another big difference was the location of the event. In the past this has been a staff only event and held in a restricted area but this year it was held in the main corridor of the hospital so was also open to patient and visitors. The ELHT team (Clare, Lauren, Charlotte & Judith) took it in turns to mann the stand and Isabel and Emma hosted the BwD library stand. We got a prime spot, just next to the shop which was brilliant for us!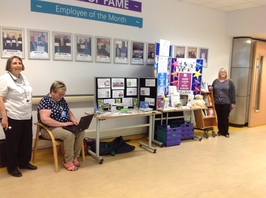 ELHT libraries showcased our Wellbeing Collection – including over 100 Books on Prescription titles and also our Fiction collection with over 450 books
BwD Public Libraries publicised the following services:
• Over 20,000 e-books available using the BorrowBox app
• Free unlimited access to over 100 digital editions of popular magazines – Rbdigital app
• Home library service
It was an excellent turn out and a great chance for us to meet both staff and patients and talk about how both our library services can support wellbeing at home or at work. There were over 20 sign-up to BwD libraries on the day!
It was also a really good chance for the Trust library staff to network with Public library staff and share awareness of our services and resources. We will be continuing to look at ways or working together and signposting users to services.
Clare Morton
Library Operational Services Manager
ELHT Library & Knowledge Services