A member of nursing staff at Lancashire Teaching Hospitals NHS Foundation Trust has been successful in joining a prestigious, national programme which will champion and embed research into everyday practice.
Nichola Verstraelen, Operational Manager at the NIHR Lancashire Clinical Research Facility at the Royal Preston Hospital, has been successful in her application to join the [email protected]: NIHR Senior Nurse and Midwife Research Leader Programme.
The programme has recruited 70 outstanding senior nurses and midwives who are committed to championing and embedding a research active culture across nursing and midwifery within the organisation. The programme will run for a period of three years and will enable applicants to share best practice and learnings in order to drive real change across research systems and strengthen the research voice and influence of nurses and midwives in NHS provider organisations.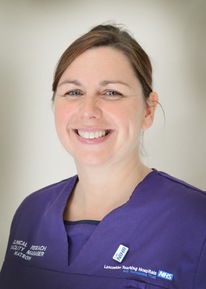 Nichola said: "I applied to the national programme as I have a passion for promoting research so that all patients in the NHS are given a choice and opportunity to take part in research. The National Institute for Health Research (NIHR) programme will give support to 70 nurses and midwives around the country to embed research into the NHS. I am thrilled to be chosen and cannot wait to get started on making research everybody's business."
Heather Coleman, Head of Nursing, Midwifery and Allied Health Professionals at Lancashire Teaching Hospitals, commented: "Congratulations to Nichola! This post is a fantastic gateway into encouraging nurses to be more actively involved in research at Lancashire Teaching Hospitals. I'm proud to be involved and support and am looking forward to seeing what the next three years hold."
Paul Brown, Head of Research and Innovation at Lancashire Teaching Hospitals, said: "I am thrilled for Nichola as she has tremendous passion for research. She has terrific experience both at Lancashire Teaching Hospitals within research and innovation, the Lancashire Clinical Research Facility and for the NIHR in the wider research networks. She is already a wonderful ambassador and evangelist for research at our hospitals and beyond and I am sure she will continue this work and seize this opportunity to work more closely with the nursing and midwifery leadership teams. I am grateful to Heather, Sarah and Gail for their help in this process."