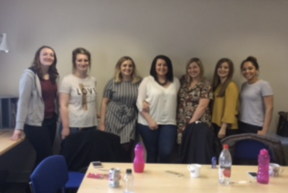 We at Humber realise how difficult it is to be a newly qualified (NQ) staff nurse working in an inpatient mental health unit. It became apparent that an increasing number of NQs where leaving inpatient care within months of qualifying. NQs were complaining the support they received was not substantial enough to prepare them for the role. They felt overwhelmed by their new responsibilities and experienced difficulties fitting into front line staff teams under pressure from high acuity and heavy workload. Despite the support of a ward-based mentor and the Trust preceptorship there was a recognition inpatient NQs needed something more.
The NQ Inpatient support group was set up in 2015 to combat this.
The group runs once a month for six sessions each year. The support group is a mixture of role specific training, sessions delivered by senior managers, reflective practice and discussion about inpatient issues. The actual content of many of the sessions is based on suggestions by the group members. Peer support was rated by previous group members as the best thing about attending. One NQ said 'it make you realise that others are in the same boat'.
The group has now just finished delivering support to the fourth cohort and are preparing for the new intake this year. Planning is also underway to establish a Development Group which will focus on nurses looking at making the transition within inpatient services from a Band 5 to Band 6.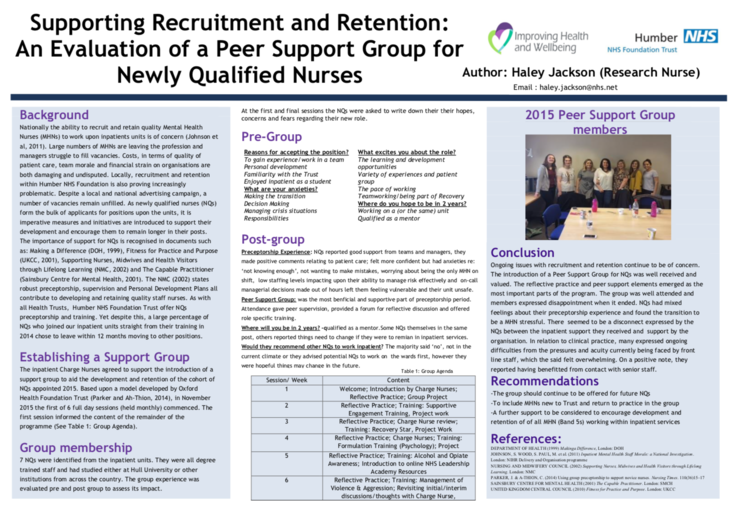 For further information contact Research Nurse Haley Jackson email: [email protected]