Simply, a network for operational leaders from provider health and care organisations did not exist. There was therefore no opportunity for operational managers to speak, engage and connect with their peers in a safe, supported and developmental way.
This gaping void in operational connectivity, unrecognised to other professions such as HR, Finance, Nursing and Medical resulted in operational leaders feeling undervalued, not recognised as a profession, people feeling very lonely and frustrated. There was also the elephant in the room of cost and permission to attend something that was not necessarily a task or operational 'must do'. Proud2bOps is free to join and the only ask/cost is peoples' time to be involved and keep connected and sharing with each other.
Proud2bOps sessions provide a safe space to be curious, share personal needs, professional experiences and ideas to develop as a network. Very early we identified:
Need for change:
• Operational management is not seen as a profession
• No operational network existed to engage and influence
• Colleagues feeling undervalued and under developed
• Safe place to share personal challenges, to learn and to develop self
• To break the loneliness
• To share the ridiculousness
Added value:
• To raise the profile of Operational roles
• To provide a platform for operational managers and leaders to have a voice
• To be recognised as a credible professional group and invited to contributed to national policy/direction
• To influence local, regional and national developments as a co-developer
• To improve recruitment to operational positions and to develop operational leaders
Proud2bOps is a community of peer leaders, committed to learning, providing idea exchange and to be challenged in thinking and delivery, while fostering a safe haven of trust, respect and confidentiality. Proud2bOps has organically grown and today is recognised as the 'go to' network for senior operational leaders across health and care providers. As such Proud2bOps has gained national recognition and credibility in its approach and purpose.
Proud2bOps has grown from 20 members to now almost 300. Through credibility, added value and trust. In 2019 an independent survey was undertaken where 100% of respondents would recommend Proud2bOps.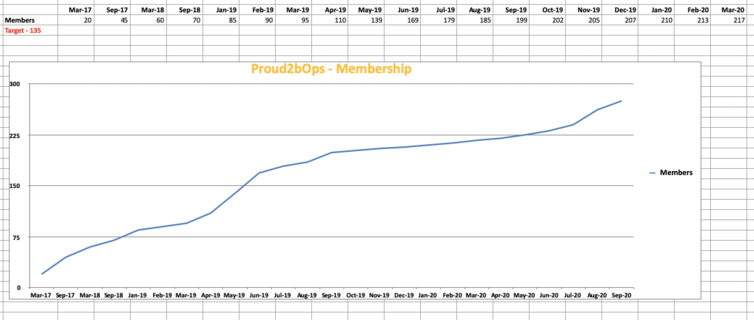 Feedback from members:
"The ability to network and learn from each other is invaluable."
"Proud2bOps has provided a safe space to be vulnerable and share the challenges whilst enhancing my thinking and skills to try something different. By its very existence this embodies good leadership."
"Hugely increased my access to key national leaders and also to local leaders. I have gained insight and contributed to national directives and helped strengthen recognition in operational roles and the profession."
"To have a peer group of professionals outside of one's own organisation generates new perspective and transferable ideas."
"I have brought back ideas into workplace i.e. Insourcing to reduce patient demands, negotiated obstacles on IT / project implementation. Helped my personal and leadership development (and as a result the organisation) - secured Director of Ops role from Head of Ops. Supported my system leadership on two projects"
"Confidence has grown through the conversations that I have had and hearing what others are doing"
Proud2bOps Network sessions have also allowed members to think wider and consider the workforce surrounding them. Sessions have focused on Reverse Mentoring, Race Inequalities, Leadership and Wellbeing. Brochures from the last 2 years are in the supporting information.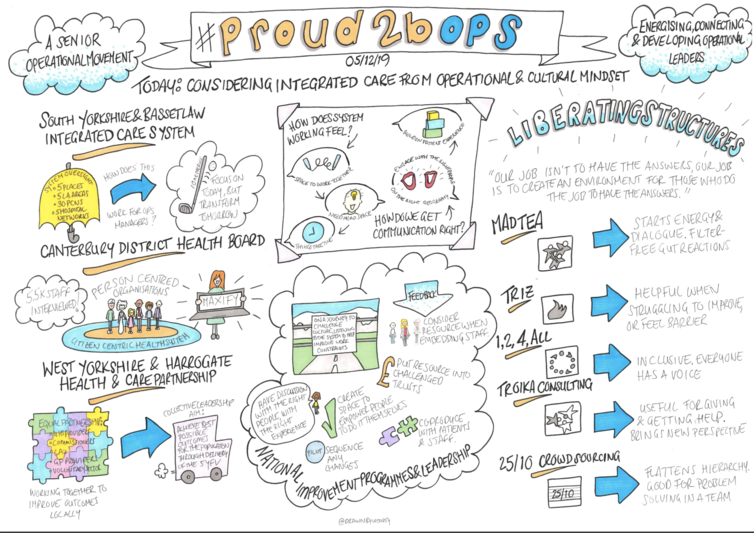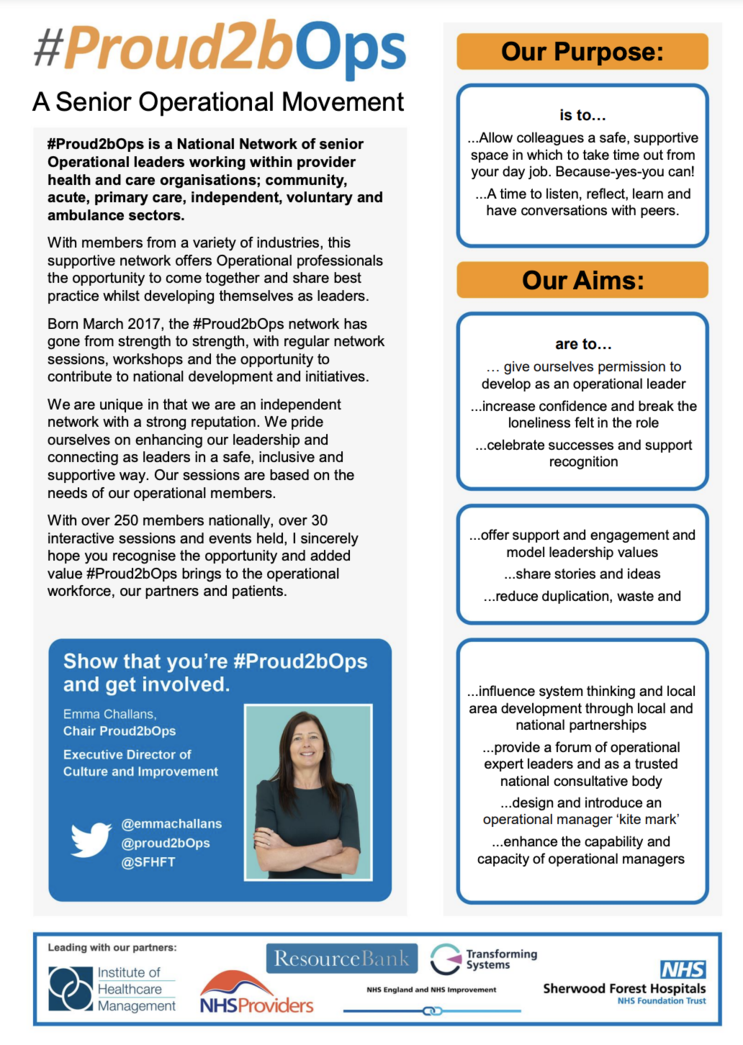 You can download and read the full Proud2bOps Brochure HERE