The first QI (quality improvement) Project in a Somerset Care Home
Dunkirk Memorial House
How education helped improve the quality of TEPs (treatment escalation plans)
The background
In August 2021 a TEP review was undertaken in all Somerset Nursing & Residential Care Homes. This review identified that a significant number of TEPs were not fit for purpose. Decisions could not be made based on the information on the TEP document. This led to hospital admissions with no clear plan for the Resident's healthcare needs. In November 2021, Lucy, Nursing & Residential Manager at Dunkirk, attended a Train the Champion workshop at Yeovil Academy. After this workshop she knew what a quality person-centred TEP looked like. She felt empowered to make some changes at Dunkirk. In December 2021 a QI project was discussed & Lucy & her Team embraced the improvement opportunity.
The TEAM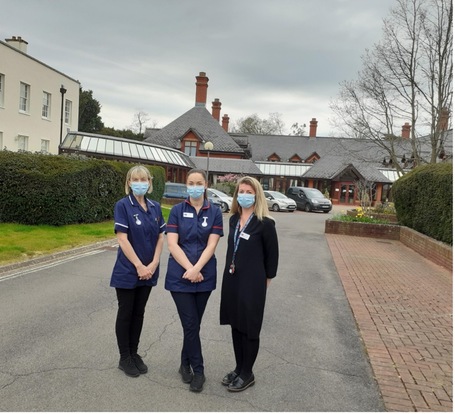 Lucy, Jess & Sue (in photo)
Also on-board, Sally the Deputy Manager, Kath & Michelle Link Nurses.
Driving the project Jude Glide & Hana Kennerley & QI Coach Jenny Pickhaver
The next 16 weeks:
Started January 2022 on Teams.
All team members engaged & 'on-board'
The Team agreed to collect data from the Nursing Unit. 22 Residents
All 22 TEPs were not 'fit for purpose'
QI Team meetings every 2-4 weeks
Education input at Dunkirk
QI process to be followed & supported by Jenny, Jude & Hana
SMART Aim agreed
Change ideas agreed
Weekly data collection started with run chart option
New change idea added when Sue developed a tick box chart to assist the Team with their progress
Their AIM
To improve the quality of 50% (11) of the TEPs (22) in our Nursing Unit by completing all sections with good quality, person-centred information by 2-5-22
Their RESULTS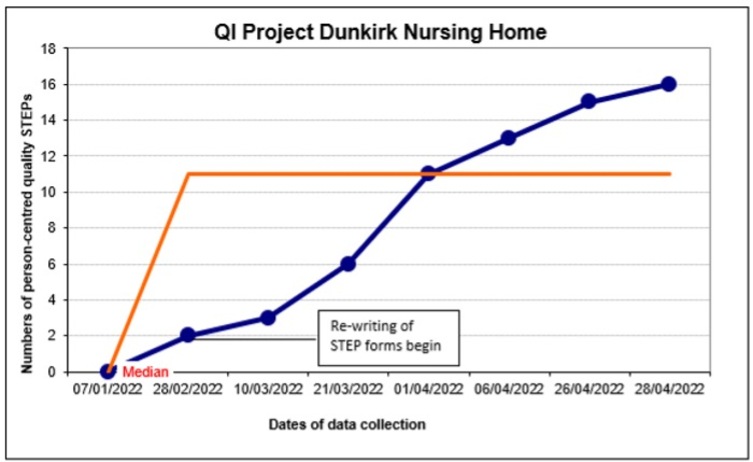 Their baseline for a good quality TEP was 0 as they were unable to make a clear decision with any of the 22 TEPs. Since the start of the project to improve the quality of TEPS they are 7 points above the baseline, therefore they know this is special cause variation, meaning it is a statistically significant change not just normal variation. Their median now stands at 11 TEPS.
The Lessons learnt (their feedback)
We now have a better understanding of the QI process
We can now complete a Run Chart which will be useful when demonstrating change for any future projects
We have had the opportunity to learn more about the wealth of resources available to support TEP form discussions and writing including the LARCH team, Marie Curie and St Margaret's Hospice.
Staff now feel more equipped and confident to have those difficult conversations with residents and their families.
The project has had a ripple effect with improved TEP forms being written across Dunkirk Memorial House.
All staff are now more aware of looking for the window of opportunity to have those discussions with residents and their relatives.
Staff can now distinguish what a good TEP looks likes and what a poorly written TEP is.
A sense of achievement by completing this project
Grateful for the opportunity to work closely with Jude & Hana, it has been enjoyable
Ultimately pleased to have the opportunity to continue to provide the best possible care to our residents by embracing learning and change.
Contacts for this QI Project
Jude Glide [email protected]
Hana Kennerley [email protected]

You can download the project report HERE