Reminiscence arts charity Age Exchange has launched a dementia activity recipe card resource pack to provide carers and care staff around the country with a range of activities.
The activity recipe cards consist of 30 activity cards. There are 12 five-minute activities, 12 30-minute activities and six half-day activities. Activities include creating a cinema experience, a music and movement hat and cane routine and a pom pom flowers activity
The activity recipe cards resource pack, which is available to buy, is ideally suited for use in the health and social care sector.
The resource pack is a collaboration between Age Exchange and South London and Maudsley NHS Foundation Trust. Age Exchange reminiscence arts practitioners and professional care staff at Greenvale Specialist Care Unit and Chelsham House created the activity recipe cards for carers around the country to use.
"Reminiscing and life history work can be a powerful way of communicating with a person with dementia. It can be the basis for enjoyable time spent together and a way for the person with dementia to feel empowered. Successfully incorporating meaningful creative reminiscence activities into planned daily care, based on individual patient preference, need and life history is a valuable addition to current work in an organisation" Nuala Conlan, Involvement Lead, Psychological Medicine and Older Adults Directorate ,South London and Maudsley NHS Foundation Trust
To create the cards, Age Exchange representatives worked with NHS care staff at work, listened to them talk about the daily pressures they experienced and discussed skills development.
Rebecca Packwood, Age Exchange CEO, said:
"This resource pack is a wonderful example of co-production where Age Exchange artists and front line NHS staff came together to understand how best to support staff to provide creative engagement in care settings. I really hope people will use the pack as a way of engaging with residents and provide them with opportunities to improve their wellbeing"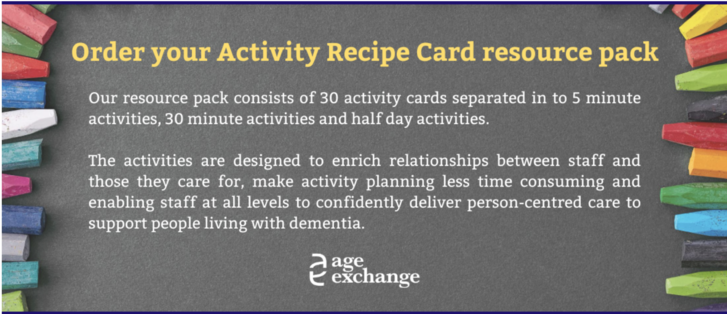 Age Exchange is the UK's leading provider of arts and reminiscence-based dementia care whose mission is to transform lives through reminiscence, improving health and wellbeing. The charity was founded more than 30 years ago in Blackheath, London, and has been internationally recognised for its impact and innovation. Age Exchange supports people living with dementia and their carers with group activities at The Exchange, its community hub in the centre of Blackheath Village provides opportunities for volunteers to undertake a variety of roles: assisting with carer groups, intergenerational work, helping to run the café or Blackheath Village community library.
The Activity Recipe Cards are consistent with the NICE guidelines for dementia care. They chime with the interventions suggested to promote cognition, independence and wellbeing, that states staff should, 'offer a range of activities to promote wellbeing that are tailored to the person's preference' and 'consider group reminiscence therapy'.
Key benefits of the Activity Recipe Cards
Enabling staff, at all levels, in the health and social care sector to confidently deliver activities, enhancing person-centred care for people living with dementia
Strengthening relationships between staff and those they care for, building trust and rapport
Boosting staff morale and encouraging staff retention by fostering more personalised, gratifying work
Improving well-being for those living with dementia, reducing anxiety and in-turn assisting the delivery of medical interventions
Providing a strong foundation in understanding good reminiscence practice, with unique insights from practitioners with a wealth of experience
Reducing the time needed to come up with creative ideas, providing more time to spend with those in receipt of care
Giving staff the opportunity to learn new skills without being away on training; new staff can pick up the activities and begin using them straight away
Ensuring high quality care, with activities having been developed alongside frontline staff and tried and tested on those in their care
Adhering to infection control issues by being hygiene safe (can be wiped down)
Being a tangible, practical resource that can be picked up and utilised time and time again
The resource pack is available to purchase from http://www.age-exchange.org.uk/activitycards

For further details, contact CEO Rebecca Packwood at [email protected]