Following the first wave of the Covid-19 pandemic, there was an increase in the number of patients that presented with significant functional deterioration following lengthy ITU and hospital admissions, and therefore requiring rehabilitation.
In response to this, in June 2020, the Inpatient Therapy team at Kettering General Hospital (KGH) introduced a 'Rehab Team (RT)' using the existing workforce of a Senior Physiotherapist, and Therapy support staff.
The aims of the service were to show improvement in functional independence, changes in planned discharge pathways, number of patients discharged home.
The RT provides extra Therapy input in addition to the Ward Therapists to patients requiring assistance of 2 or more, which was extended over a 7 day service.
To measure functional independence, the Elderly Mobility Score (EMS) was introduced across all specialities and a score on admission and discharge measured and recorded. The Ward Therapist's document the planned discharge destination and then the actual discharge destination to track changes in discharge destination, as well as the Senior Therapy Team being involved in the MDT Daily Discharge meetings with the external partners.
Culture change was encouraged amongst the Inpatient Therapy Team by providing 'Home First' and 'Discharge to Assess (DTA)' training.
Over 40 weeks, the RT has seen:
• 501 patients in the hospital setting;
• 90% of these patients were identified as requiring a Medical Rehabilitation (MRE) pathway
• 70.6% of patients had a change in their discharge pathway with only 22.8% still requiring MRE.
• 46.9% of patients improved enough to be discharged on a Home pathway, in line with the NHS Hospital Discharge Service Policy and Operating Model (August, 2020) benchmark of 40% of patients to be discharged from hospital home. The statistical, significant change on the EMS is a 2-point change (Morton et al 2008); those seen by the RT had a change of 3.7 points.
To support winter planning in the trust, the existing RT introduced Therapy outreach and safety-netting at home in October 2020. Originally it was to provide on-going Therapy for a few days, supported with phone calls to improve function, to support a transition from Hospital to home and promote flow through the hospital by reducing demand on the community services.
During the second peak of Covid-19, the MRE beds were utilised as Sub-Acute beds and therefore the service was changed to provide up to 10 working days of rehabilitation for patient's requiring assistance of 2 at home.
• 136 patients have been seen at home
• 29 patients had on-going Therapy needs identified from the RT.
• ICT have 48 hours to accept patients , going home with the RT saved up to 272 bed days an indicative cost saving of £68, 272 at £251 per bed day .
• 100% of patients only needed 3 follow up visits , 2 safety-netting calls.
We continued to use the EMS to measure functional change from discharge from the hospital and from the service
• all patients had a functional change of 2.35 points,
• RT patients showed a change of 4.60 in their own environment.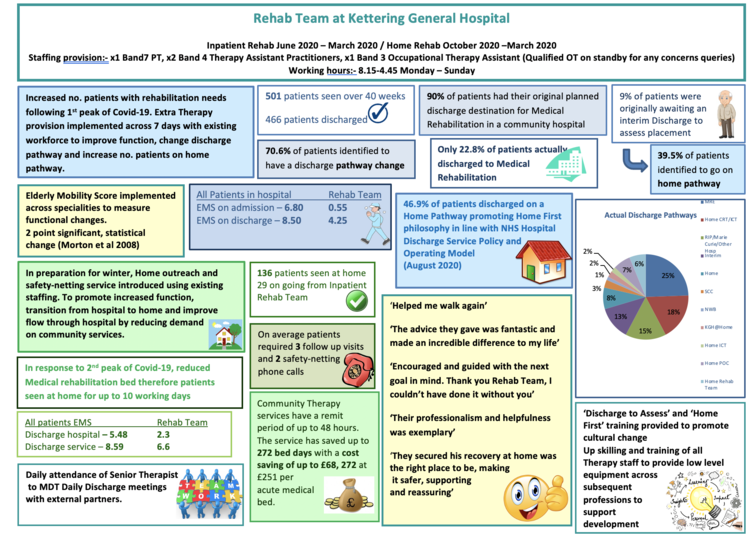 You can read and download the Infographic HERE