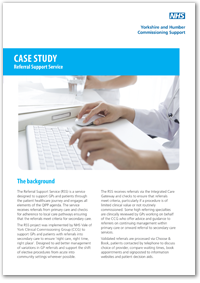 Yorkshire and Humber Commissioning Support (YHCS) has supported Vale of York CCG in the implementation of its Referral Support Service (RSS) pilot, engaging all elements of the QIPP agenda.
RSS supports GPs and patients with referrals into secondary care to ensure 'right care, right time, right place'. The RSS receives referrals via the Integrated Care Gateway and checks to ensure that referrals meet criteria. The process facilitates better management of variations in referrals, particularly where a procedure is of limited clinical value or not routinely commissioned, and supports the shift of elective procedures from acute into community settings. Some high referring specialties are clinically reviewed by GPs working on behalf of the CCG who offer guidance to referrers on continuing management within primary care or onward referral to secondary care services. Validated referrals are processed via Choose & Book and patients are telephoned to discuss provider options, compare waiting times, book appointments and are signposted to information websites and patient decision aids.
The RSS process:
• Provides real time data that is fundamental to the evaluation of referral activity.
• Evaluates procedures of limited clinical value and seeks prior approval for procedures not routinely commissioned.
• Has improved utilisation of Choose & Book and helps identify secondary care clinics with slot issues.
• Enables patients to exercise their right to choice.
• Actively seeks patient feedback on the service and provides customer satisfaction reporting to the CCG.
• Facilitates the CCG's 'Stop Before Your Op' policy that returns surgical referrals for patients who smoke if they have not been provided with guidance about risks, offered cessation support or signed a waiver.
• Supported the development of a website signposting new, locally developed pathway guidance including referral criteria forms and patient decision aids.
• Encouraged two other local CCGs to implement their own RSS.
The purpose of the pilot was to standardise the expectations of GPs with regard to referrals, treatment in primary care and information recorded in letters.
In addition to fulfilling this purpose, it helps to identify new pathway needs, provides 'forward book' data and comparative practice data. Patients like the new approach as they receive a personal service from the RSS administration team.
Utilisation of Choose & Book has increased, supporting the drive towards a paperless NHS, as the secondary care providers are now receiving referrals electronically and more securely with all the necessary information attached.
The YHCS team: • Co-ordinated the roll-out of the new software to practices and provides front-line support for software queries. • Efficiently carries out an administration triage of referrals to improve data quality. • Manages the booking process for all referrals submitted to the system.