University Hospitals of Morecambe Bay NHS Foundation Trust (UHMBT) is asking local people in Kendal and the surrounding areas to talk to them about why breast surgery services matter to them, at a special, free, drop-in event to be held in Kendal.

The Breast Care Matters in Morecambe Bay listening event will be held on Wednesday 10 October from 5.30pm - 8pm at Cancer Care, The Lakes Centre, Blackhall Road, Kendal, LA9 4BT.

The aim of the event, which will take place during Breast Cancer Awareness Month (1-31 October), is to listen to women and men and use their feedback to shape future breast surgery services at the Trust for the better. It will give local people who currently use the Trust's breast surgery services or those who support the services the chance to meet the team involved and give their honest feedback on their experiences - what went well and what could be improved.

Local people will be asked to feedback on the following questions:
• What are the breast surgery services doing well?
• What impact does our breast surgery service have on you and how could we improve?
• Tell us about how our communication affects you?
• What key message would you like us to take away?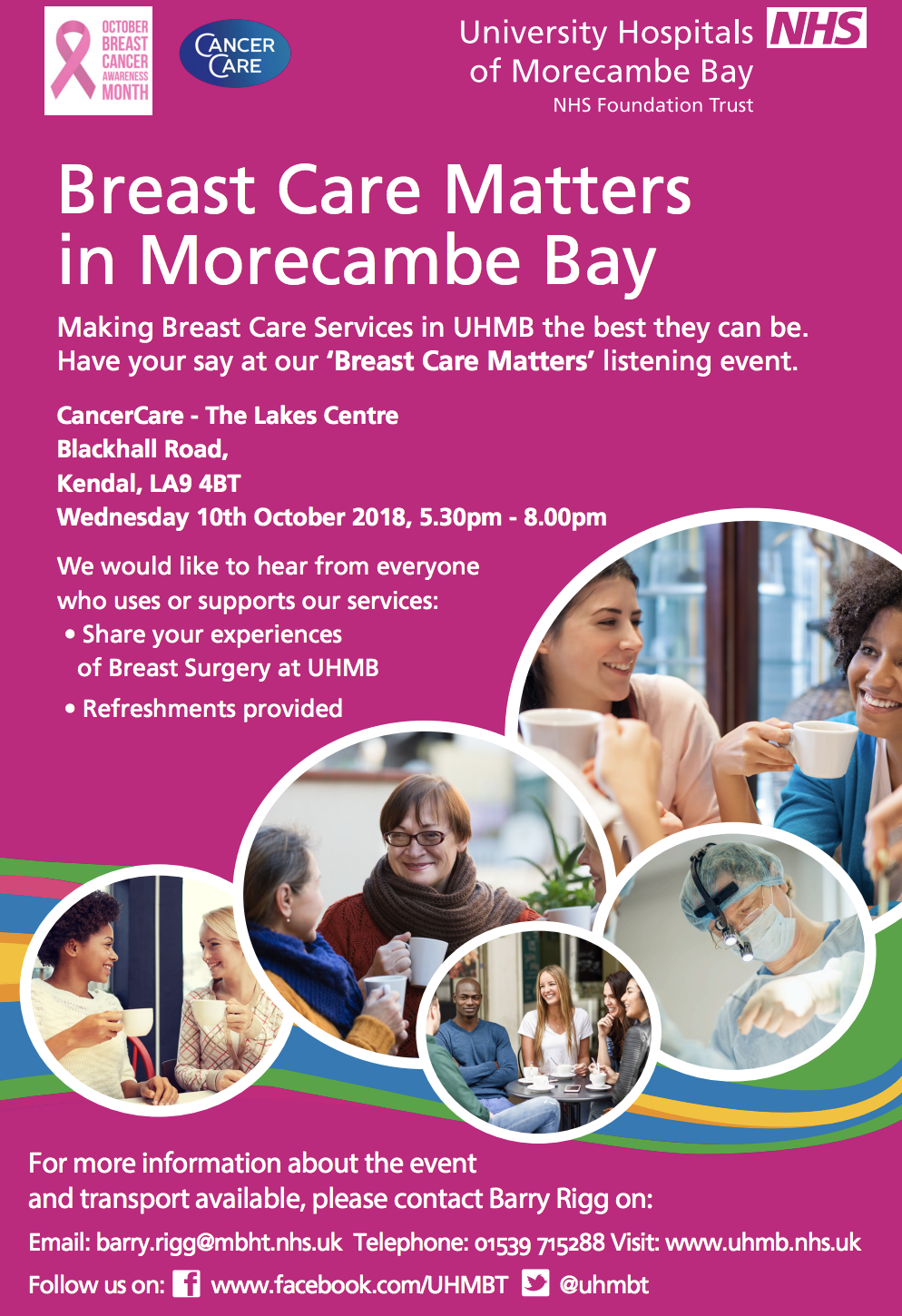 Breast cancer is the most common type of cancer in the UK. Most women diagnosed with breast cancer are over 50, but younger women can also get breast cancer. About one in eight women are diagnosed with breast cancer during their lifetime and there's a good chance of recovery if it's detected in its early stages.

Breast cancer is rare in men. There are about 390 men diagnosed each year in the UK. This compares to around 54,800 cases in women. The single biggest risk factor for male breast cancer is getting older. Most breast cancers are diagnosed in men between the ages of 60 and 70.

Sue Smith, Executive Chief Nurse and Deputy Chief Executive, UHMBT, said: "Speaking as someone who was diagnosed with breast cancer myself last year, the Breast Care Matters event is a great opportunity for local women and men who use our breast surgery services or our fantastic supporters to have their say and help us make the service the best that it can be."

For more information about the event and transport available, please contact Barry Rigg on [email protected] or 01539 715288.
https://fabnhsstuff.net/storage/Breast-Care-Matters-in-Morecambe-Bay---poster.pdf