Impressive results from the first year of implementation of Game Changer, a pioneering programme to improve the health and fitness of Halton children, have been announced.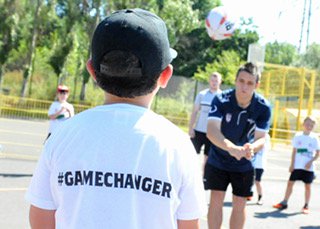 Game Changer sees Widnes Vikings' specialist community coaches work in 36 schools, promoting exercise, good nutrition and healthy lifestyles to almost 1400 children per year. It is commissioned by Improving Me, the NHS Cheshire and Merseyside Women's and Children's Services Vanguard. The programme is supported by NHS Halton Clinical Commissioning Group and Halton Borough Council.
The project aims to embed exercise and healthy lifestyle choices in the daily curriculum and routines of children in years 2-4. With schools committing to promoting 80 minutes of activity per-day, supported by a 24-week programme of targeted physical education sessions that are delivered by the Vikings and the schools, it aims to improve the physical condition and health awareness of local children. In doing so, it encourages them to adopt healthy lifestyle behaviours that they will sustain throughout their lives.
Independent research from Public Health Institute at Liverpool John Moores University has identified that Game Changer project has delivered "many improvements" that are "statistically significant", across measures as varied as jump, hand grip, bleep test and shuttle performance. Importantly the analysis identified that students embraced the project, with "all of the children reporting that the sessions make them feel happy."
With impressive results, including an average 70% improvement in bleep test performance, a 65% improvement in jump and hand-grip, and a 59% improvement in shuttle run performance amongst Year 1 children, the programme has delivered a resounding impact.
The programme is set to develop with further innovations, including introducing an emphasis on dance and movement skills, as well as initiatives to supports the health of employees in Halton schools. Gamechanger will also incorporate drives to promote positive mental health, to ensure holistic improvements in student wellbeing, with the introduction a creative new project delivered by Widnes Vikings' Co-Captain, Chris Houston.
Richard Munson, Commercial and Community Director at Widnes Vikings, says: "Game Changer creatively uses the power of the Vikings brand, as well as the specialist skills of its community coaches and players, to inspire important changes in the lives of local children. The negative impact of obesity and physical inactivity in children is well documented, so this project aspires to make an important intervention by encouraging children to adopt positive habits whilst they are young."
He continues, "We are delighted to see that the data validates the importance this programme. We are grateful to the NHS Cheshire and Merseyside Women's and Children's Services Vanguard for their belief in this project, and for the invaluable contribution of all schools and project partners. With the programme set to further grow and develop this year, we are excited to make an even bigger impact."
Catherine McClennan, Programme Director for Improving Me, says: "The Improving Me programme aims to improve the health and wellbeing of women and children across Cheshire and Merseyside through activity, social inclusion and education. At the heart of this effort in Halton is Gamechanger. We have been delighted by the passion and enthusiasm from the children for the programme and to see the excellent results it has achieved. We'd like to thank the team at Widnes Vikings for their effective delivery of the project and look forward to continuing our partnership this year."
 Read the full report here.