From our Spiritual Care Lead, David Knight: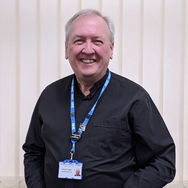 I'm the first Spiritual Care Lead employed by Sussex Community NHS Foundation Trust. As such, the spiritual care service here is very much in embryo. Part of my job is to design a strategy for spiritual care in a community context but, in the meantime, I also recruited Volunteer Chaplains for our bedded units dotted across Sussex. COVID-19 planning meant that quite early on it was clear that the Volunteer Chaplains could no longer go onto the bedded units. Chaplaincy and spiritual care is very much a face to face business usually, so we've had to invent some new ways of operating. These are the services we're currently offering.
For patients and their carers we offer:
• A telephone chaplaincy service. Each bedded unit has one or two Volunteer Chaplains available to patients on the phone. They offer a listening ear to anyone but can also signpost people to specific faith leaders on request.
• Leaflets to guide people in spending five minutes in prayer, meditation or reflection. These are produced on recycled paper with single use in mind. They can also be emailed to any device.
• Qur'an Cubes from the Qur'an For Hospitals Project – audio devices with Koranic verses spoken in English or Arabic for Muslim patients.
• A signposting service for people searching for the supportive resources from the different faith traditions available online, including online worship.
• Some simple words to use in end of life care for religious and non-religious patients. These are designed to be spoken by nurses or any member of the caring team.
For staff we offer:
• Information and advice on attending to the spiritual care needs of patients and carers (including end of life care) by email, phone or video.
• Mindfulness meditation and other reflective practices to individual SCFT staff or teams by email, phone or video.
• A 30 minute mindfulness meditation every Friday on Zoom.
• Well-equipped chapels and prayer rooms in several of our hospitals, which are now principally a quiet space for staff.
• Advice on religious festivals and ideas for how to observe them in lockdown.