ULHT Bus Station Sept 2019 & ULHT Mini Bus March 2020 were mobile engagement projects that travelled across Lincolnshire. Sept 19 directly interacted with 700+ people & March 2020 spoke with 1450+ people.
Reviewing data from various sources i.e NSS, OD were tasked with developing a staff engagement project that focused on health & wellbeing, as well as promoting all training & development opportunities.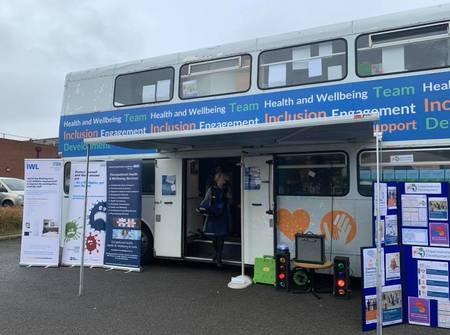 We devised an unusual project & brand to bring all these things together. The idea of developing a journey we naturally gravitated to a visual similar to the London Underground. However appreciating the rurality of Lincolnshire, we recognised that a bus would the more relatable form of transport therefore this became the theme for our roadshow.
A stakeholder group dubbed the Bus Crew (Chaplains, Clinical Education Team, EDI, Occ Health, OT, Physiotherapy, OD, Talent Academy, Volunteer Services & Facilities dept) was formed. OD led the formal logistics such as sourcing external sponsorships & financial support from our internal Staff Wellbeing fund. We worked collaboratively to coordinate the programme. We hired an event ready double decker bus, created our own branding & communicated the schedule across the Trust. We worked tirelessly with teams such as Estates to ensure we had non-imposing locations across all sites. Comms were key partners ensuring cohesive messages were shared consistently during the week. It was agreed that the bus would be open for staff from 10am – 4pm on all sites.
The Bus Station event was deemed a great success. The feedback continued to be a highlight across a number of forums that in late 2019 OD submitted the proposal of the Mini Bus event to the Director of People & OD. This was responding immediately to the feedback that there were many colleagues who were unable to attend for a variety of reasons. Therefore, this time with the existing resources, we devised a localised version of the project, which saw a small wagon physically transformed into a Mini Double Decker bus! We then wheeled it around as many depts across all sites as possible. The slogan was 'Bring the Bus to the people'. We agreed the mini bus would be about from 11am – 7pm each day.
As we were touring with the mini bus, the full Bus Crew wasn't needed. This was covered by OD, but we encouraged the crew to jump aboard at any time. Whilst the first event focused on training & development, the mini bus wanted say a profound 'Thank You'. We created a team pack with info from the first Bus plus additional info based on feedback i.e. full training lists from Clinical Ed. We also distributed free sweets & chocolates funded by our internal Charitable Funds as well as donated pens.
ALL colleagues responded with authentic interest. Each day we shared a summary report with our Executive Team & other senior leaders, highlighting the number of people we had spoken with &their key messages. We also included a collage of different teams with the bus itself.
Things to remember for next time (because there WILL be a REVISIT 0.3)
1. The Mini Bus model was the most successful in terms of engagement outcomes, connecting with more people in a similar time frame.
2. We engaged with staff who wouldn't have been able to engage at all with the physical full scale bus.
3. The full Bus Station had positive impact on ULHT's reputation due to the public locations
4. The need to develop a shared timetable, sharing the physical manning of both the Full Bus Station & the Mini Bus encourages the larger promotion of teams commonly known as the background staff.
5. Never underestimate the simple things. The power of a lollipop will get you so far, but a free pen will get you to the moon and back!
6. Accompany the free lollipop & pen with info about support & development opportunities; you will see an increase in engagement with these programmes, whilst receiving sincere thanks in return.