What is it?
Two staff members informally supporting one-another. At the most basic level, it's about making friends and learning from each other.
An established/experienced member of staff is paired with another staff member who may either be new to post, may feel unsupported or under-prepared in their role, feel professionally isolated, or may just welcome the opportunity to get the occasional coffee with someone that they can confide in (sometimes it's easier to talk with someone with whom you don't have a direct personal/professional relationship).
This doesn't mean this is a one-way relationship though, there are benefits for both parties.
What are the benefits?
EASE TRANSITION INTO NEW ROLES
MAKE FRIENDS/ DEVELOP A PROFESSIONAL SUPPORT NETWORK
INFORMAL LEARNING
INCREASED CONFIDENCE THROUGH RECOGNITION
IMPROVED STAFF RETENTION
CONTINUING PROFESSIONAL DEVELOPMENT
BOOST PRODUCTIVITY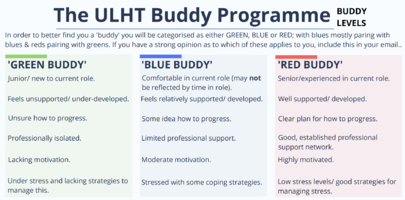 How does it work?
Flexibility; The beauty is that the system can be adapted by our staff and utilised in whatever way works for them.
Compatibility; Staff will be paired with someone with whom they have some job role compatibility, so that ward managers 'buddy up' with other ward managers and matrons with matrons, for example. This is intended to maximise the value of the pairing. For instance, even an experienced specialist nurse would likely be a less valuable buddy to a new-to-post ward manager than an experienced ward manager.
You can read the full presentation about the buddy programme here.