University Hospitals of Morecambe Bay NHS Foundation Trust (UHMBT) is setting out its priorities for the remainder of the coronavirus (COVID-19) pandemic and into the future.
The pandemic has meant that certain plans have had to be put temporarily on hold but the Trust says there are important areas that can and will be developed over the next few months and into 2021.
Quality and safety of care remain the main priorities so the Trust is now focusing on four key areas to ensure that services recover and improve as the country emerges from the pandemic.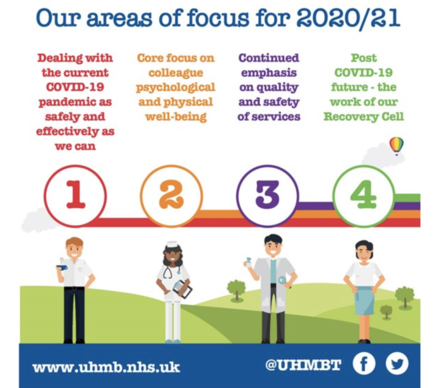 Aaron Cummins, Chief Executive, UHMBT, said: "Usually, at this time of the year, we have shared our priorities for the upcoming financial year so that all colleagues, patients, visitors and local communities know about the areas that we are focusing on for the upcoming year.

"Our four priorities will enable us to move into the future with confidence and provide the best possible care, treatment and support services for the people in the communities we serve."

The first priority is to deal with the current pandemic as safely and as effectively as possible. Working as part of the Bay Health and Care Partners, the Trust will share learning and work with partners to make sure the right decisions are taken to safely deliver 'normal' activity once more. The Trust will maintain a high awareness of people who are most at risk and will continue engage with local communities. Government guidance will continue to be followed and services will be managed carefully to ensure that the most effective and safest care can be delivered.

The second priority is a continued emphasis on the psychological and physical wellbeing of staff at the Trust. Colleagues will continue to be supported through the 'Employee Health and Wellbeing Support Pack' and there will be continued promotion of the Trust's 'Flourish' initiative. Flourish encourages everyone to look after their wellbeing by taking rest breaks, having good nutrition, remembering to stay hydrated and many more areas of self-care. Colleagues will receive high quality appraisal conversations and rest areas will also be provided.

The third priority will be a continued emphasis on quality and safety of services. The Trust will strengthen and demonstrate consistently strong levels of clinical engagement and ownership of key clinical governance, risk and assurance processes across all teams. There will be rigorous post-COVID engagement and clinical leadership to deliver the transformation of clinical services. The Trust will also deliver against Care Quality Commission (CQC) and external/internal reviews, such as in Urology, Trauma and Orthopaedics to support clinically-led high standards of practice across every clinical team.

The fourth and final main priority will be the work of the post-COVID 'Recovery Cell'. The aim is to recover from the adverse impact of COVID-19 on operational performance, for example, to tackle waiting lists for patient care. There will be a focus on a new exciting model of delivering Outpatient services as well as the transformation of how patients 'flow' through the Royal Lancaster Infirmary (RLI). The Trust plans to embed seven-day working and to support the excellent work of social care colleagues with timely discharges from hospital. There will be a focus on ensuring that operating theatres are working at optimal efficiency and productivity for 52 weeks of the year. Work will also be carried out to further improve the Trust's financial position by reducing net costs in all areas compared with 2019/2020.

The Trust will continue to review the four priority areas and will share updates on progress with staff, stakeholders and the public.

Aaron added: "As we begin to look to the future, I would like to thank each and every one of our colleagues for the work they have put in over the last three months.

"To say it has been a difficult time is an understatement but it has been powerful to see how colleagues across the Trust and wider health and care system have come together under intense pressure to provide safe services for our communities.

"I'd also like to thank our local communities. Your support for our Trust and the NHS as a whole has been second to none and we are proud to be able to care for you and your loved ones whenever you need us."
You can read in more detail HERE