University Hospitals of Morecambe Bay NHS Foundation Trust (UHMBT) celebrated the amazing work of its healthcare science professionals and the difference they make to patients' lives, as part of Healthcare Science Week.
The week, which ran from 6 to 15 March, gives NHS trusts the chance to tell their local community and other healthcare professional's first-hand about how science and technology are vital in modern patient care and changes lives for the better.
The Trust currently employs 164 healthcare scientists (147 whole-time equivalents) who work in several areas across the trust, including:
 Microbiology
 Clinical Biochemistry
 Clinical Investigations
 Histopathology
 Haematology and Blood Transfusion
 Audiology.
Mo Chaudry, Trainee Biomedical Scientist, Histopathology, Royal Lancaster Infirmary, said: "Coming towards the end of my training to becoming a qualified Healthcare Scientist, I have found that Cellular Pathology is a fascinating discipline that allows us to explore the structure and function of cells, tissues and organs. During my training, I have had an amazing and interesting learning experience of the areas within Cellular Pathology and how the sample preparation and techniques are invaluable to the diagnosis of cancers and diseases."
Tony Crick, Associate Director of Clinical Professions, UHMBT, said: "Healthcare scientists practice alongside doctors, nurses,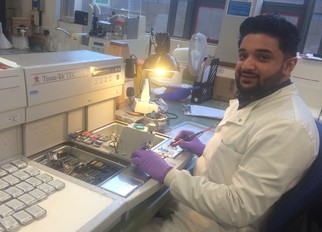 and allied healthcare professionals, and play a vital role in the delivery of healthcare. This group of highly trained scientists are critical for
the delivery of healthcare today but also develop innovative tests and treatments for use in the future.
"This awareness week allows us to tell people all about what we do and celebrate the part we all play in offering high-quality care to patients across Morecambe Bay."
 The Trust's pathology teams are involved in performing tests to diagnose and monitor disease, and are made up of a number of disciplines, including Histopathology, Microbiology, Biochemistry as well as Haematology and Blood Transfusion. In 2019 the
pathology service produced in the region of 8,250,000 results from 1,200,000 samples.
 The Microbiology service at the Royal Lancaster Infirmary and Furness General Hospital tests around 300 urine samples a day for conditions such as urinary tract infections. The department also tests bloods for viruses such as HIV and Hepatitis; sputum and faeces. Samples come from local GP's and inpatients to be tested. One of the most serious conditions the department tests for is sepsis is a life-threatening condition that arises when the body's response to an infection injures its own tissues and organs
 Other healthcare science roles at the Trust include anatomical pathology technicians, physiologists, healthcare science assistants and healthcare science associates.
To find out more about Healthcare Science Week log on to https://nshcs.hee.nhs.uk/news/...
Look out for roles in healthcare science at the Trust on https://www.jobs.nhs.uk/ and http://betterwithyou.co.uk/