Patients who use ventilators at home to support their breathing do not always use the machine every night but this can be harmful to their health. When a patient first takes a ventilator home, their review in outpatients clinic is done six weeks later. Patients who haven't been able to use the machine have had six weeks without treatment by this time.
We introduced ventilators with wireless monitoring, and now undertake early review of their ventilator use within an online platform. We telephone patients to offer support guided by the information we have on the success or otherwise of their treatment with the ventilator.
Since then, we have monitored patterns of patient usage of ventilation treatment to further improve the quality and safety of this intervention. All of our patients have so far agreed to monitoring. One patient described it as:
'The little man in the machine'
Feedback we have had indicates patients feel supported by this new ability to assist them. 330 patients have so far received remote review, and 15 treatment changes have been done without the need for the patient to attend hospital.
We have also analysed patient compliance data and found that ventilator use in the first 14 days predicts longer term use. Our investigation of treatment compliance is the first of its kind to demonstrate this relationship. We presented this work at the American Thoracic Society conference in San Diego, 2018.
We are remodelling our follow-up pathway to ensure that review of treatment use takes place within two weeks of starting treatment. Outpatient appointments are now offered to patients who are not well established on treatment at time of online review; this allows us to focus our support on patients who need it most.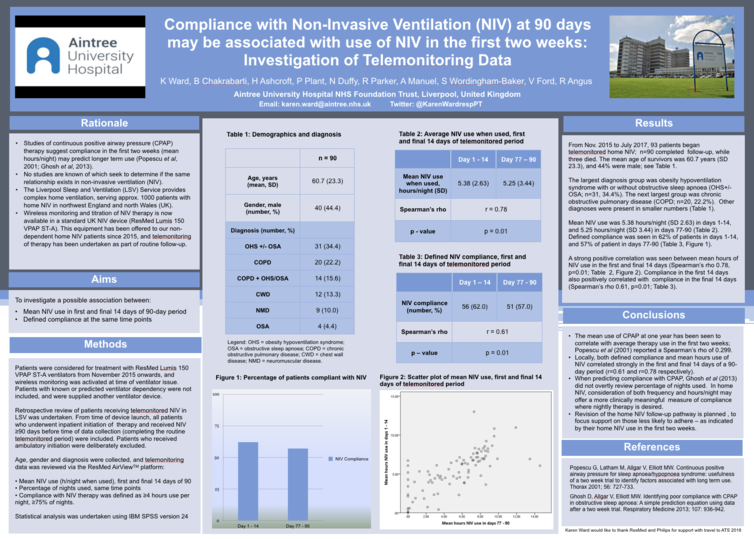 Liverpool-Sleep-and-Ventilation-Service-Compliance-with-NIV-ATS-2018.