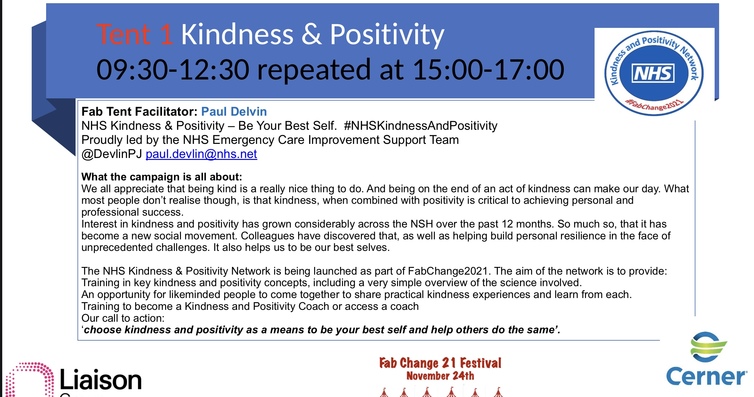 We all appreciate that being kind is a really nice thing to do. And being on the end of an act of kindness can make our day. What most people don't realise though, is that kindness, when combined with positivity is critical to achieving personal and professional success.
Interest in kindness and positivity has grown considerably across the NHS over the past 12 months. So much so, that it has become a new social movement. Colleagues have discovered that, as well as helping build personal resilience in the face of unprecedented challenges. It also helps us to be our best selves.


If you didn't get an opportunity to join either of the sessions in Tent One but would like to catch up the two sessions were recorded for you and the thoughts, ideas and discussions are different in both - so enjoy your Kindness and Positivity catch up.
You can watch the Morning Session here
And this is the afternoon session
This is a highlight Top Tips summary of the chat discussion during the two sessions


Recommendations:
https://www.ted.com/talks/sam_conniff_allende_how_pirates_changed_the_course_of_history_and_how_you_can_too
'Reflection through the waves, poems of the pandemic' If you search on Amazon - Helen Lane poems: https://smile.amazon.co.uk/Reflections-through-Waves-Poems-Pandemic/dp/1838069291/ref=sr_1_1?keywords=%27Reflection+through+the+waves%2C+poems+of+the+pandemic&qid=1638133326&sr=8-1
https://www.amazon.co.uk/Its-Your-Ship-Management-Anniversary/dp/145552302X
http://business-book-summary.blogspot.com/2008/10/its-your-ship.html
Top Tip: I have the eye roll measure. If there are more than 2 eye rolls per email I don't respond until later, 5 or more I often delete if it's important someone will get back to you
Top Tip: We use that concept when we give feedback to students. We need to give three positives for every not so positive.
James McLoughlin; TAP: www.thankandpraise.com @JamesMcL @TAPunsungheroes
Top Tip: When I learnt that active kindness/empathy actually results in the same neural pathways involved in wellbeing and joy being activated I realised the power of choosing to be kind
Top Tip: I think measuring a culture of kindness is an interesting question, as there is a risk of 'tick boxing' it. I think embracing qualitative measures and telling stories to demonstrate the power of kindness behaviours are key in this space. Measuring culture will hopefully be something that regulators will look at going forwards, some work on WMTY and kindness at NHSE
Quote: I think measuring a culture of kindness is an interesting question, as there is a risk of 'tick boxing' it. I think embracing qualitative measures and telling stories to demonstrate the power of kindness behaviours are key in this space. Measuring culture will hopefully be something that regulators will look at going forwards, some work on WMTY and kindness at NHSE
Top Tip: Join NHS Horizons School for Change Agents: http://horizonsnhs.com/school/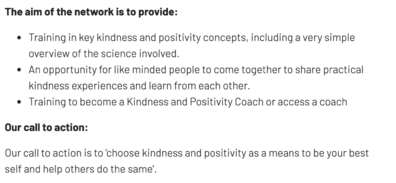 If you'd like to learn more about this important social movement, you can read more about it HERE