Two teams at Lancashire Teaching Hospitals NHS Foundation Trust have been shortlisted within the national Student Nursing Times Awards 2019.
The Student Nursing Times Awards aim to bring together the nursing community to shine a light on the talent making their way into the profession. The awards celebrate the people and the institutions that put their students first and work hard to provide the best experiences for them.
The Collaborative Learning in Practice (CLIP) and Placement Support Team have been shortlisted for the Student Experience Award for the innovative approach that the team showcase in utilising clinical placements in a unique way.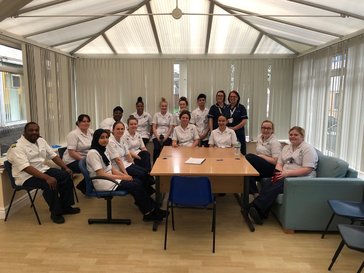 Jonty Kenward, Placement Support Manager at Lancashire Teaching Hospitals, said: "This is the third year that we have been shortlisted for this same category and we are all very pleased and excited about the nomination. Being shortlisted is excellent recognition for the hard work and dedication that the team undertake to support students daily to provide the best learning environments possible."
The team on ward 2B at Royal Preston Hospital has also been shortlisted within the category of Student Placement of the Year: Hospital. The team has been shortlisted for the high quality placements that they offer to students who are able to gain hands on, practical experience to help them in their future careers.
Julie McLean, Ward Manager at Lancashire Teaching Hospitals, said: "We are all so proud that ward 2B has been shortlisted in the Student Nursing Times Awards this year. This is a fantastic platform to promote the brilliant work that all of the team do and every single member of the team deserves this recognition for their hard work and passion for providing the best experiences for our students."
Winners will be announced on Friday 26 April 2019 at a glittering afternoon ceremony at the Grosvenor House on Park Lane.