University Hospitals of Morecambe Bay NHS Foundation Trust has launched a new 'Take Home and Settle' service provided by the British Red Cross for patients at Furness General Hospital (FGH) in Barrow.
Colleagues from the Take Home and Settle service are helping to accompany patients home and ensure they are settled in. Many different patients are benefiting from the scheme, including older people who live on their own and people who are feeling isolated or lonely.
To be able to use the service, patients must be over 18 years of age and able to self-mobilise into a car. The Red Cross staff make sure that each person is safely settled into their home and can help with picking up medication, clothing and even some shopping.
The service, which reaches as far as Grange-over-Sands, is helping to aid quicker discharges and improve the experience that patients have when leaving hospital. There is no charge to patients for the service which is currently set to run until the end of March 2021. The Red Cross team members always wear the appropriate PPE and follow national guidelines on infection prevention at all times.
Tracy Ashton, Discharge Matron at FGH and Discharge Lead for UHMBT, who has worked for the Trust for around 30 years, said: "I'm glad that we have this service for our patients. It's a great service for people who are being discharged from hospital.
"The Red Cross team can drive patients who meet the criteria home and see that they are settled in. Due to the COVID-19 pandemic, a lot of families are shielding and can't always make sure that their loved one is safely back home. The Red Cross team also does a follow-up call the day after the person has returned to their home to make sure that everything is ok.
"This is an important service because in Barrow we do get a lot of elderly and frail patients coming through our doors who don't necessarily need hospital care and who are able to go home."
The service can also make the discharge process smoother for patients which, in turn, helps to free up hospital beds.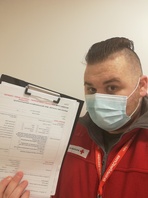 Mark David Clark is the service coordinator for the Red Cross team at FGH and there are two assistants - Rachel Walker and Angela Birkett. All three Red Cross colleagues are from Barrow.
Mark said: "Our priority is to get patients home safely. A lot of patients have told us they really appreciate the service. They are thankful and happy to be home.
"When referrals come in, I make sure that the patients meet the criteria and that the team has everything they need to assist the patients.
"Our service also addresses loneliness and anxiety. Many of the patients have been in bed in hospital worrying about COVID-19. It helps that they have someone friendly to talk to on the way home. We can also signpost patients to other services in the community. We provide them with information on support groups and places to get help if they need it."
For further information please contact [email protected]