The Swan Scheme out of hours cupboard was developed thanks to Louise and Chantelle two fabulous Red to Green Trackers & EOLC Champions at SaTH.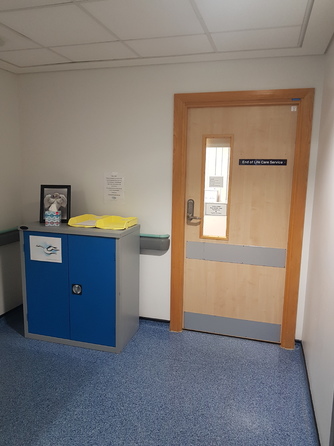 The cupboard is stocked with swan memory boxes and contents for expected deaths and swan paper bags and contents for unexpected deaths, moonlights, battery candles for care after death, CD player & CD's, fleece blankets for relatives staying over, relative leaflets, message cards, swan ring boxes, swan signs and more.
The wards are well stocked with swan memory boxes and swan paper bags with contents.
However, the out of hours cupboard allows staff to restock & get other items when they need them at the hardest of times because we have one chance to get it right.
There are two yellow trays on the top of the cupboard one tray with loan forms in the other for completed loan forms for moonlights, battery candles, CD player and CD's only.
The cupboard is located outside the EOLC Service office on the ward block at Royal Shrewsbury Hospital & is checked & restocked by EOLC Service Staff and Volunteers.
We now plan to find a suitable location at the Princess Royal Hospital Telford to do the same. Thank you Louise and Chantelle & all our wonderful staff who always embrace our End of Life Care improvements & developments to the swan scheme.
Jules Lewis EOLC Facilitator/ Lead Nurse at SaTH & Fab Ambassador
@Juleslewis6