More than a hundred staff at University Hospitals of Morecambe Bay NHS Foundation Trust turned out to support their colleagues at our Listening into Action (LiA) Brilliant Bay Days on 27 March at Royal Lancaster Infirmary and 30 March at Furness General Hospital.
Staff leading LiA schemes and from maternity, pharmacy and mental health presented their achievements and plans for the future. There were market stalls with posters, information, leaflets and goodies.
Improvements included:
• An infant feeding strategy for Morecambe Bay
•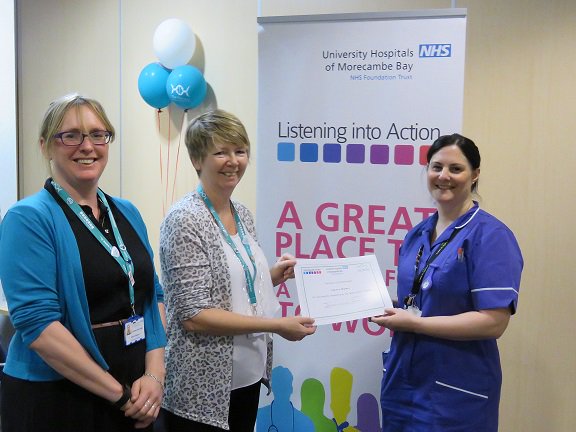 Award winning team from Clinical Audit and Emergency Department at Furness General Hospital redesigned how they collect information about trauma cases – some of which is now being used regionally
•Electronic documentation for our Early Pregnant Assessment Units to provide consistent information in whichever location our patient presents
•Trust wide scheme implemented by pharmacy and the wards to ensure safe removal of expired medications
•Daily Ward rounds on our orthopaedic unit to make sure that patients receive a timely review from a senior clinician.
Claire Rawes, Matron for Surgery, said: "The Listening into Action approach is very structured and the support from the exec team and sponsors gives you good coaching techniques to drive your projects forward. The LiA team and the 7 steps really help you to develop ideas and make something happen."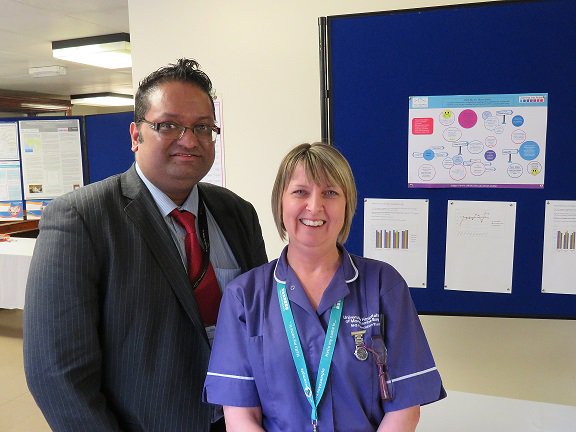 Lauren Gracie, Staff Nurse, said: "I have really enjoyed everyone's presentations and listening to what improvements they have made within the Trust. It is great to see how enthusiastic people are about their ideas and innovations."
At our recent CQC Quality Summit, Professor Sir Mike Richards, Chief Inspector of Hospitals, made special mention of our Listening into Action) programme and how we've managed to succeed where others have failed.
Liz McDougall, Associate Director Engagement and Improvement, UHMBT, said: "Our Brilliant Bay Days have been a great success because of the staff leading inspirational improvements across the Trust. I am extremely proud and inspired by all of them. It is really important to us that staff are given the chance showcase their improvement journeys, outcomes and pass on the tools for good practice." You can follow progress with our LiA and Improvement projects on Twitter @LiA_UHMBT and @UHMBT. For more information on the LiA programme, visit
https://www.uhmb.nhs.uk/about-us/lia/