Somerset NHS Foundation Trust
Synopsis
Social care colleagues have been requesting training in specific clinical skills to enable delivery of safe, competent care since the beginning of Covid lockdown. Historically the training has been delivered by District Nurses, but they have less capacity to deliver training & delays in training has caused delayed discharges.
The 7 step quality improvement (QI) methodology – our single approach to change projects across Somerset integrated care system was used to tackle the problem. We established and tested a social care training team who were supported by Somerset NHS Foundation Trust's clinical skills team to ensure best practice.
In just 16 weeks, we prevented 47 patients from deteriorating, avoided 2 hospital admissions, facilitated 3 discharges and saved 47 District Nurse visits.
SMART AIM ........to decrease gastrostomy training delivered by District Nurses by 100% by 31st March 2022.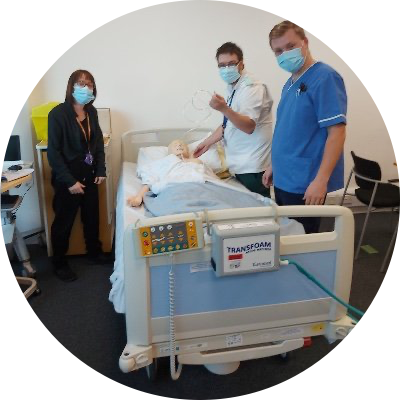 METHOD
• Learn the clinical skills needed for this project
• Source equipment/resources
• Source/write lesson plans
• Set-up a spreadsheet and managed referrals
• Signpost inappropriate referrals
• Collect data/feedback
• Market service/poster/word-of-mouth
• Deliver competency-based training
• Use change ideas in improvement Plan Do Study Act (PDSA) cycles to adopt, adapt or abandon elements based on learning from the tests of change.
RESULTS (in 16 weeks)
111 referrals received, 81 accepted and 30 forwarded to the relevant team.
100% of gastrostomy training was met by the team achieving their aim.
Feedback
Care Home Manager
"Thanks for upskilling. The competency assessing was the icing on the cake, this training means we won't be marked down by Care Quality Commission now."
Non-Invasive Ventilation Practitioner re: suction training:
"Excellent! Thank you so much. What an invaluable service. Will be a huge help in meeting the needs of our patients and will aid quicker discharges from hospital."
Clinical Nurse Specialist Stem Cell Transplant Service
"An excellent service. It has given our clinical nurse specialist team the reassurance patients are safe, supported and competently assessed to self-administer a very important medication."
Neighbourhood Service Lead
"We know the training has made a major improvement to patient/resident safety within the care home."
Registered Care Home Manager
"Thank you for highlighting this training skills gap. Care homes can get forgotten and maybe COVID has highlighted the care home struggle and raised awareness of this issue."
Care Provider for Learning Disabilities
"Thank you for fighting our corner, your service has listened and either signed posted us to what we needed or delivered high quality clinical skills training to our staff. Now we won't be marked down by Care Quality Commission."
Conclusion
• innovation with multidisciplinary and cross system working has improved the safe delivery of clinical skills within the community
• with continuous funding, workforce transformation is feasible and sustainable
• challenges identified during this process included staff shortages, cancelling at the last minute & staff sickness
• this project supports the right clinician, the right care in the right place at the right time
The Social Care Training Team are finalists for the HSJ Awards 2022, Patient Safety Category.
The Team presented at the Bristol Patient Safety Poster Competition May 2022.
Contact email [email protected]
You can read the full project outcomes HERE