I am a psychiatrist with a passion for enabling all health care professionals to feel confident in supporting their patients with their mental health needs. I recognise that most people working in the NHS want to support their patients in all aspects of their health needs, but often lack the confidence to address their patients' psychological wellbeing. For this reason I have developed a range of simulated training packages, to provide all clinical disciplines with the opportunity to develop their skills through experiential learning techniques. I consider myself to be the simulation training champion for mental health care in Sussex.
Simulation training is a technique whereby learners are placed in realistic replications of work scenarios and asked to perform various clinical tasks. The scenarios are then debriefed with expertly trained facilitators in order to enable the participants to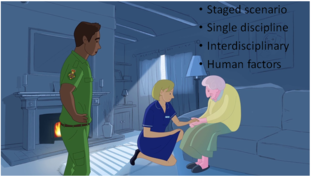 identify learning objectives that are of use to them in their future clinical practise. The strength of this training style is that is ensures that clinicians become fully immersed in the educational activities. There is no way of dozing off at the back of the class! The debriefing of scenarios then allows for reflective learning about of how human factors, alongside technical skills, can influence clinical care. The learning outcomes are then immediately transferable to be practiced in the workplace.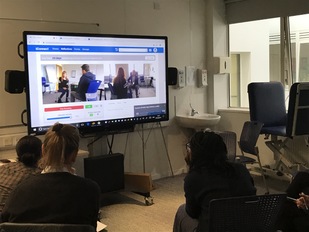 One of the flagship simulation training projects currently being delivered is the perinatal mental health training. This project is being delivered to midwives, health visitors, nurses and doctors who might come into contact with women in the perinatal period, but do not have specialist training in mental health. This project has been coproduced with service user at all stages, including design of scenarios right through to facilitating every training day. The benefits of this have been highlighted in the learner feedback who comments that throughout the training, the voice of the patient stands out. Alongside this, a dramatic improvement in the confidence of the clinical participants has been evidenced. We believe this will inevitably translate to wider confidence in identifying women at risk of mental health disorders, allowing for better overall patient care in this group of vulnerable women.
Additional projects that I have developed, using simulation training and experiential learning techniques include a dementia training package designed for general nurses. These nurses invariably have to support patients with a range of dementia diagnoses whilst they are receiving care on general medical and surgical wards. I have also designed and delivered a range of simulation training packages for General Practitioners to support them with managing child & adolescent mental health disorders, eating disorders and personality disorders. Again these have been designed with the understanding that the majority of mental health care takes place outside of mental health services. And if we are to make a meaningful difference to the delivery of care to these patients, training has to be delivered in a way that is engaging, interactive and evidenced base. This is why I am passionately invested in simulation training.
For further information contact [email protected]