We want to make sure your work is celebrated at the #FabAwards Prize Giving on December 4th

We want to ensure learning isn't forgotten. We want others to be inspired by your work and to pinch with pride.
There are three simple ways to submit your fab work but you do need to register HERE (scroll to the bottom of the page to find the registration box) and then login

1. We've drafted this template to help you structure your story.
It's designed to help others put your learning into practice.
Click on the image below to open and download the template or click on this LINK
Try and complete every field if you can, but don't worry if you can't just delete what isn't applicable to you.
When you have completed the template it REALLY IMPORTANT YOU SAVE AS A PDF, then upload it, together with any attachments, to the submit your work section HERE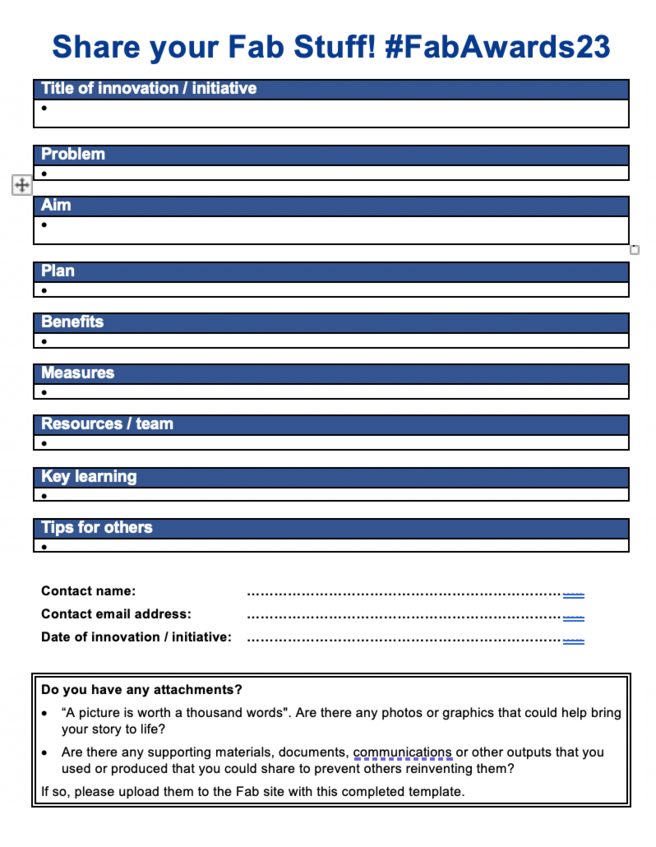 2 If you already have a poster prepared then just save as a PDF - use the submit your work section, give your work a title and upload your PDF through the standard submit your work process HERE

3 Prefer to submit your work by using free text and adding you own PDF's and images/links/videos? Well you can via this link