This app continues to from strength to strength.
You can read more about its NHS recognition and use here.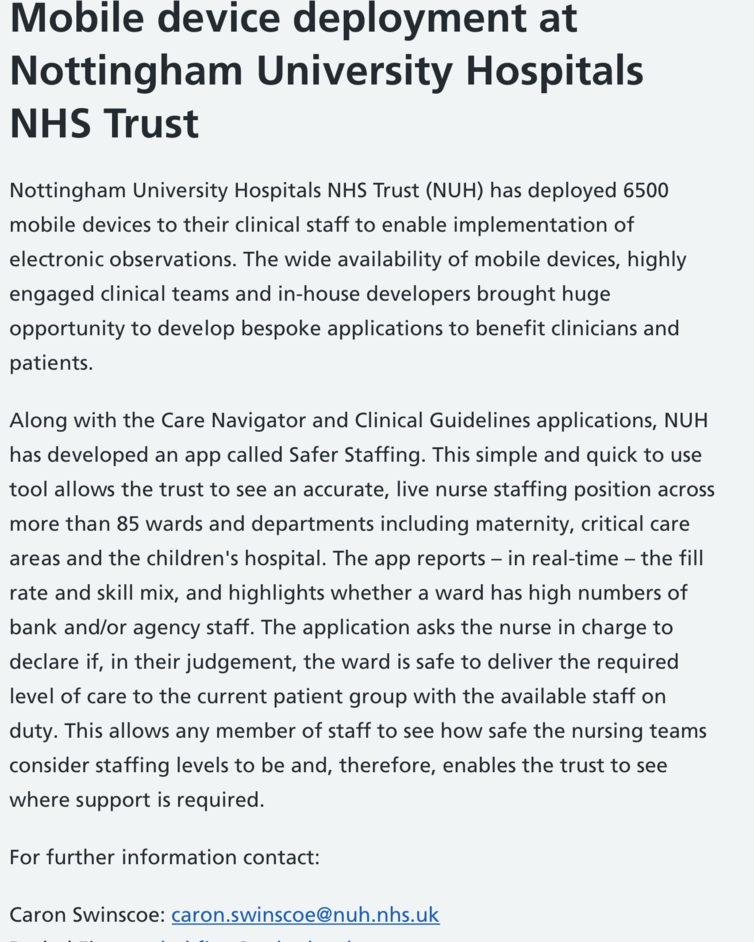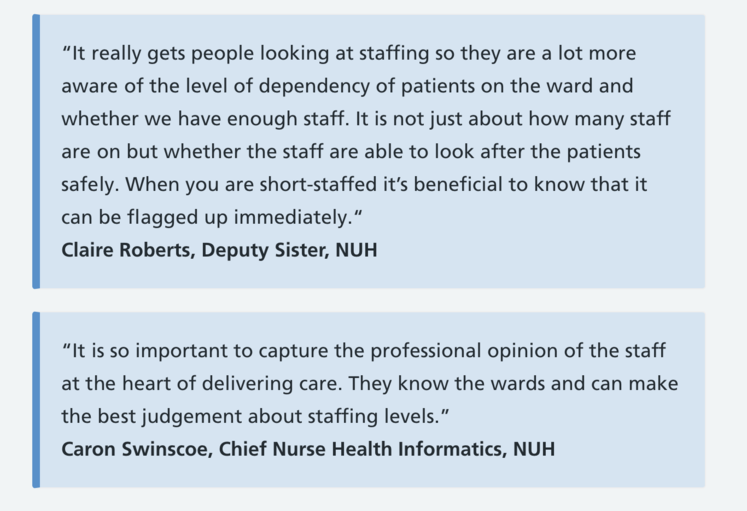 from Nursing and IT at Nottingham University Hospitals have worked together to develop a new Safe Staffing App.
This simple, quick to use tool allows the trust to see an accurate, live staffing position from ward to board. The app is pre-programmed with agreed planned staffing for each shift for every ward. At each handover the nurse in charge inputs actual staffing numbers into one of the wards mobile devices. We ask the nurse to input how many Trust, bank and agency staff are on duty for both registered nurses and HCA's.
The app then reports fill rate (we only count staff directly delivering care excluding any supervisory/supernumerary staff), skill mix and highlights if a ward has high numbers of bank and/or agency staff for both both registered nurses and HCA's. The nurse in charge is then ask to assess if, in their opinion, the ward is staffed safely. If the nurse answers no, the app prompts the nurse to complete a red flag alert. The nurse is able to report a red flag even if all indicators are green.
At any time during the shift the nurse in charge can update the staffing app meaning that the system can show a live staffing position. The app also recognises if a ward has not updated their staffing levels within the agreed timeframe and flags this, prompting a senior nurse review. The system is then able to report fill rates, % trust staff on duty, skill mix and number of wards assessed as safe or prompted to report a red flag at Trust, site, divisional, directorate and ward level so that it is quick and easy to use for all levels of staff who need to review staffing levels.
The reports generated by the app allow rapid assessment of staffing across wards, easily highlighting any wards that need urgent support. The app is supported by a standard operating procedure and a red flag escalation process which guide staff on actions needed to facilitate safe staffing across all our wards.
The app is currently being rolled out across all NUH wards.
For further information contact Ann Marie Riley: [email protected], @AnnMarieRiley10 and Caron Swinscoe: [email protected], @SwinnyNUH