Move it or Lose it helps older people and those with long term health conditions to be more active, physically, cognitively and socially. They have a network of accredited instructors running exercise classes in community and care settings reaching over 25,000 people every week. The exercises which include flexibility, aerobics, balance and strength (FABS) can be done seated or standing and relate to activities of daily living.
For those who can't get to classes there's an online club with a wide range of exercise videos on demand along with live classes every week. There are activities, physio talks, book club and regular chats to keep everyone active and connected. Membership is free for a month then £4.99 month and can cancelled at any time: https://www.moveitorloseitclub.co.uk/free-trial/
Their Cuppa Routine has 4 simple exercises to help with strength and balance which can be done in the time it takes to boil a kettle. See the YouTube video or download a pdf here: https://www.moveitorloseit.co.uk/time-for-a-cuppa/
The Get Up and Go app is aimed at ending PJ paralysis with simple mobilising exercises that are demonstrated in a hospital bed and chair: https://www.moveitorloseit.co.uk/can-you-get-up-and-go/
Other resources include a range of award-winning exercise DVDs and Stay Fit for Life book to help people stay active at home.
Along with their nationally endorsed FABS Training Programme for older adults they also offer a bespoke chair-based exercise programme which is ideal for care homes, staff and volunteers.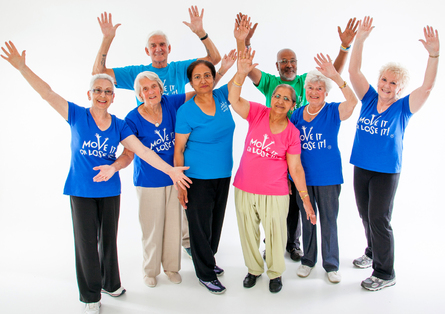 For more information contact [email protected]