Two members of staff at Lancashire Teaching Hospitals NHS Foundation Trust have been shortlisted within the North West Coast Research and Innovation Awards 2019 for excellence in research and innovation.
Christian DeGoede, Consultant Paediatric Neurologist at Lancashire Teaching Hospitals, has been shortlisted for the prestigious Clinical Research Practitioner of the Year Award for 2019.
Christian said: "I am delighted and proud to have been nominated and now shortlisted for the North West Coast Clinical Research Practitioner of the Year Award 2019. I feel children's research has taken a leap over the last couple of years, extending our portfolio and attracting funding for important research. I am passionate about research, and believe this should be part of our clinical practice as it ensures we provide the best available care to our patients and families. I have to emphasise this would not have been possible without the support and dedication of our highly motivated research team."
"I also believe the establishment of the NIHR Lancashire Clinical Research Facility at Royal Preston Hospital has catalysed the progress of our research agenda, and has helped the collaboration with our regional universities. Indeed we are involved in some ground breaking work along the lines of seizure detection with Lancaster University and a project with the University of Central Lancashire on an innovative device to help children who wet the bed. I cannot wait to see what 2019 will bring and look forward to build further on what we have achieved."
Andy Nixon, Clinical Research Fellow in Renal Medicine at Lancashire Teaching Hospitals, has also been shortlisted within these awards for the Clinical Research Rising Star of the Year Award.
Andy said: "I am absolutely delighted to be shortlisted. It was quite a surprise as I did not know I had been nominated! I am incredibly grateful to Paul Brown, Kina Bennett, Nichola Verstraelen and Jacqueline Bramley in the department of research and innovation for nominating me. I am the first appointed Clinical Research Fellow in Renal Medicine at Lancashire Teaching Hospitals and without their support I would not been able progress as I have done. With their guidance and under the supervision of Consultant Nephrologist Dr Ajay Dhaygude, I have developed and delivered original research projects, actively engaged patients and the public in research design and established new collaborations with researchers that have a shared goal, specifically the improvement in the health and wellbeing of older adults."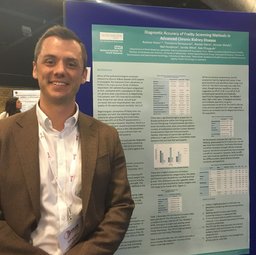 "Over the last 18 months we have presented our research on the diagnostic accuracy of frailty screening methods in advanced chronic kidney disease at national and international conferences and recently published our manuscript. We are now performing a study funded by Kidney Research UK with the main objective of evaluating the feasibility of performing a randomised controlled trial that investigates the effect of home-based exercise on the physical function and quality of life of pre-frail and frail patients with chronic kidney disease."
"I hope that our research and service improvement work will help secure funding for future original research within this field to be conducted at Lancashire Teaching Hospitals and the NIHR Lancashire Clinical Research Facility, ultimately leading to improved outcomes for patients living with frailty and chronic kidney disease."