The social care training team decided to enter the HSJ awards 2022 to showcase the great outcomes they had achieved with their Quality Improvement Project.
The category entered was patient safety. There were over 1000 entrants across 25 different categories.
They wanted to gain recognition for the team who undertook this work & highlight the need for further investment in clinical skills training across the integrated care system.
The aims of their quality improvement project were:
1. to offer standardized training, competency assessing & safe delivery of care.
2. to encourage the RIGHT person, to provide the RIGHT care, in the RIGHT place at the RIGHT time.
The quality improvement project started back in November 2021 because Social Care had been requesting training in specific clinical skills to enable delivery of safe, competent care. Historically the training has been delivered by District Nurses, but they have had increasingly limited capacity & hospital discharges have been delayed.
The 7 step quality improvement (QI) methodology, based on the Institute of Healthcare Improvement Model, was used across the Somerset integrated care system to tackle the problem.
The team's outcomes, in just 16 weeks, had shown that their training had
prevented 47 patients from deteriorating
3 hospital discharges had been facilitated in a timely manner
2 hospital admissions had been avoided
District Nurses' time had been saved by preventing 47 visits.
The team were shortlisted as finalists along with 9 others in the patient safety category, including Alder Hey Children's Hospital and North West Ambulance Trust & invited to the awards ceremony in London on November 17th. It was a very special evening hosted by David Walliams at the Evolution Centre in Battersea Park.
The social care training team won a HIGHLY COMMENDED award for their work. This award was introduced this year due to the high standard of entries. The winner in the patient safety category was Kent Community FT with their work involving medicine optimization within special schools
This quality improvement project completed in April 2022 after initial funding for six months however the work continues to spread. The team have shared their learning and reflections at the Bristol Patient Safety Conference in May & at the HEE (Health Education England) Educational Conference in October.
They are now piloting a train the trainer model where senior care staff are training and competency assessing in their own healthcare setting to enabling them to cascade the standardised NHS clinical skills training & competency assessing.
The infographics showcases our achievements so far: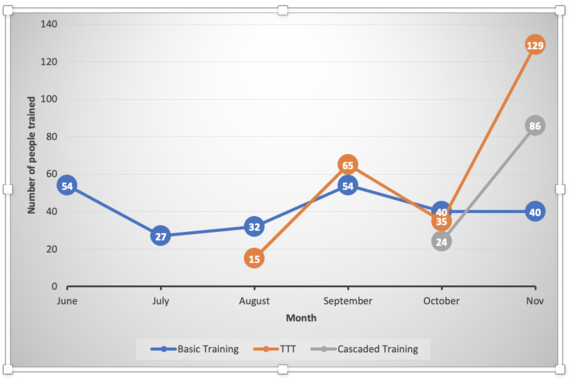 The Blue line showcases the number of people trained in various clinical skills & competency assessed
The Orange line showcases the number of senior staff trained & competency assessed using the Train the Trainer model (TTT)
The Grey line showcases the number of people trained & competency assessed by cascading 'in-house'