Memory Assessment Clinics provide diagnosis and support for patients with dementia and their families. As part of the OPMH transformation programme in Hampshire, we are looking at our memory assessment centres across the whole service. Using the memory assessment national audit we got five clinicians to look at 12 different OPMH CMHT teams – picked at random 20 patients in each area and looked at, amongst other data:
when they were first referred to our service
when first seen for assessment
when diagnosis was made
what the assessment looked like.
from that we identified that there were many areas of quality improvement so there are lots of gaps in our services.
Within Portsmouth and South East division, we held a workshop on 4 December which brought together consultant psychiatrists, memory nurse specialist, CMHT team leads – and gave us the opportunity to review the results from the audit, look at where those gaps are and consider what we are going to try and do to improve things.
The government has a mandate from initial referral to diagnosis should be 6 weeks. This is a challenge – and we are going to aim to try and reduce to that to an average of 12 weeks initially.
Audit shows current achievement of 6 weeks:
Havant and Waterlooville – 35%
Petersfield and Bordon - 70%
Fareham & Gosport – 15% (range between 2 and 36 weeks)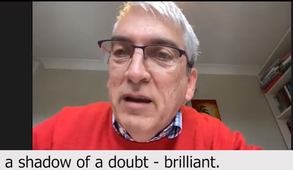 For patients and their families this is not acceptable to wait this long from referral to diagnosis. We should be able to provide memory assessment and diagnosis in a timely manner and be able to alleviate and fear, distress and concern patients and relatives experience.
We needed a patient and carer perspective on this, who is able to share their experiences, good, bad or indifferent, so it personalises the experience for all OPMH clinicians, enabling the patient and carer to have their voices heard.
So that is what the workshop was all about. It was an opportunity for us to press the pause button, have a look at what we are doing and then really come up with a clear quality improvement plan to make some changes that are desperately needed.

Read more about this, listen to our podcast and watch the video of Graham, the carer, telling us about how the memory assessment clinic had helped his family.
@shft_transforms