Healthcare pre-registration student attrition and retention is of significant focus across the UK. Particularly, this is having a notable impact within the South West. Moving out of the Coronavirus pandemic, the NHS is establishing the new normal and managing the significant, sustained pressures on its services.
At University Hospitals Dorset there has been a recognised pattern arising in relation to the learning environment quality for our pre-registration learners. The Student and Preceptorship Support Team work to deliver an excellent standard of placement experience for all our multidisciplinary students. However, as a large, multi-site Trust it is not possible to monitor every student's experience on every placement day. The end-of-placement evaluations provide meaningful insight into placement quality concerns, but they are not timely.
To address these issues, we are launching a system called Purple Flag and running it as a QI Project.
The Purple Flag is an innovative system to raise an urgent alert to the Student and Preceptorship Support Team about placement and learning quality. The system is open to anyone who has an in-the-moment concern about student supervision, placement quality or learning experience. Examples of this include;
1. No named supervisor allocated for duty
2. Learner not able to attend training
3. Learner not able to attend spoke placement
4. Staff being moved out of area due to learners on duty
5. Insufficient supervision opportunities
6. Insufficient assessment opportunities
7. Red flag raised
8. Learner feeling unsafe in practice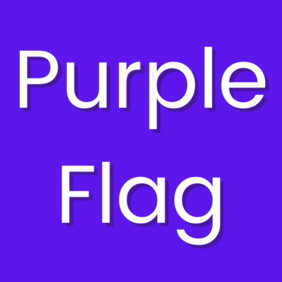 The Purple Flag is a simple intranet contact form which alert the team who will make a discrete and timely visit to the placement area or individual learner with the aim of de-escalating, resolving and mitigating the impact of the issue or incident.
A Purple Flag is not for general feedback or placement evaluations. It is not for raising a performance issue surrounding a learner, or to request non-time critical support.
Raising a Purple Flag is most effective if it is done at the time of the issue or concern. It allows us to act upon it quickly and effectively, with the aim of reducing the impact it has on learning experience and quality.
Typical response actions include:
• Pastoral support
• Advocating for the student
• Advocating for the placement area/clinical lead
• Mutually agreed action plan with timely follow up
• University liaison
• Escalation to senior personnel where warranted
• Instigation of the internal student and placement concerns protocol
The aim of this QI project is to enable and deliver a timely and responsive service to our learners on placement across the organisation producing a resilient and skilled workforce ready for practice at the point of registration.
We launched this in January 2023 and will be auditing the data at three-monthly intervals as part of a formal PDSA iterative cycle.
Find the infographich HERE and these posters Poster1 and Poster 2