Staff from Lincolnshire's Phoenix NHS Stop Smoking Service were out in force on national No Smoking
Day, to try to encourage more people than ever to be proud to be a quitter. On Wednesday, March 11, the estimated 130,000 smokers in Lincolnshire were urged to take the first step in giving up cigarettes for good.
The Phoenix NHS Stop Smoking Service, which is part of Lincolnshire Community Health Services NHS Trust, has once again backed the campaign with a range of activities and dedicated support. While studies show that two-thirds of smokers want to quit, nearly one in five UK adults continue to smoke, including 21 per cent in Lincolnshire.
On No Smoking Day, Phoenix advisers were:
• hosting a question and answer session on Twitter from 10am-3pm.
• at a stall at the Hildred's Centre in Skegness from 10am-3pm;
• at Morrisons in Grantham to offer information and advice from 10am-3pm;
• at Lincoln County Hospital and Boston Pilgrim Hospital throughout the day to promote the service.
As well as attending events, Phoenix advisers also encouraging local organisations and ex-smokers to back No Smoking Day via the Phoenix Facebook and Twitter pages. With many pledging their support by posing with "Proud to be a Quitter" campaign boards.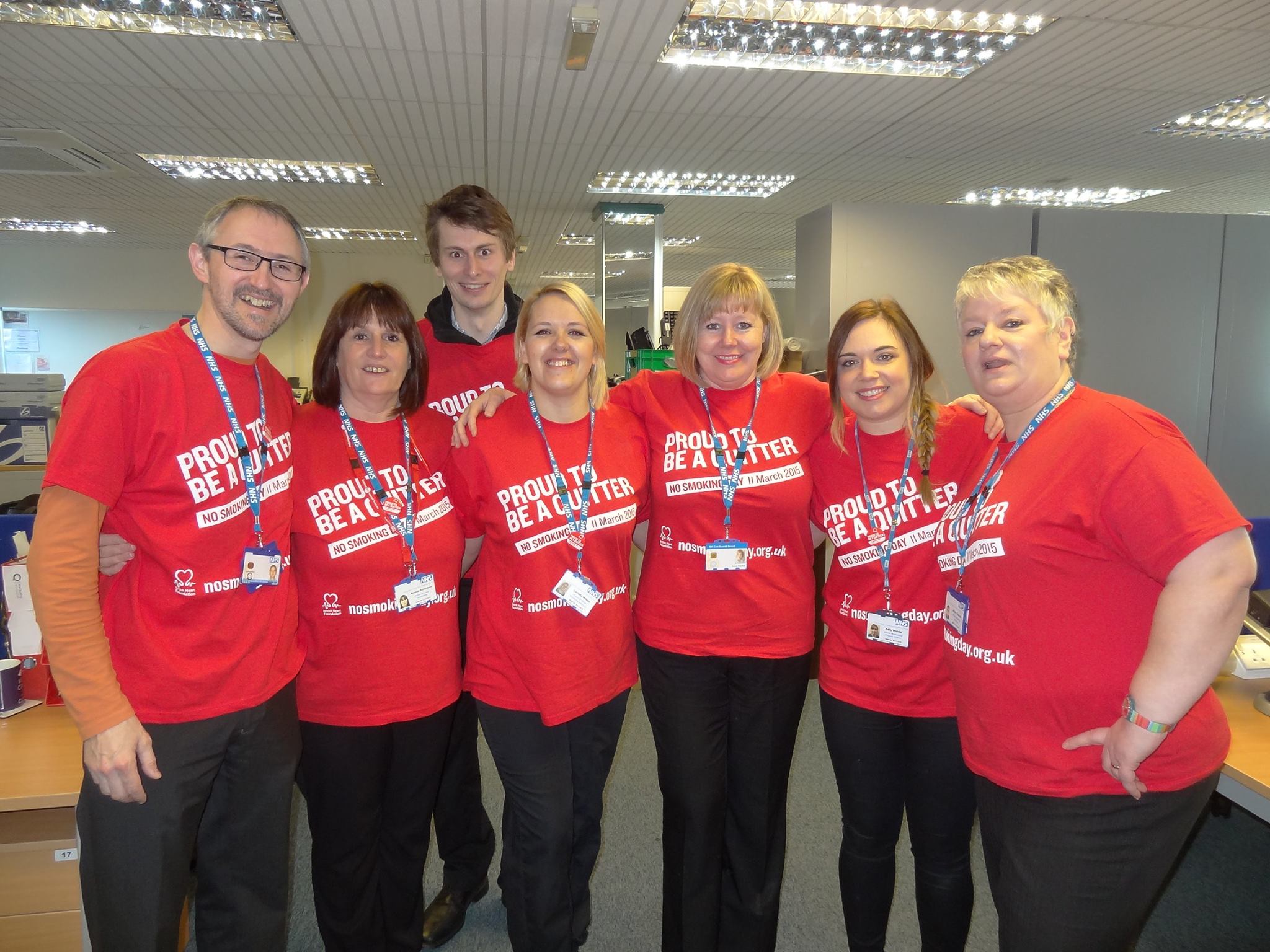 Amanda Richardson, Phoenix Stop Smoking Specialist, said: "Smokers are four more times more likely to quit if they access help from Phoenix, rather than trying to quit on their own. We have supported 12,076 smokers to successfully quit smoking in the past two years, but there's still work to be done. "Lincolnshire's smoking prevalence of 21 per cent is still higher than England and the East Midlands' average of 20 per cent. "Individually tailored help, support and advice are available from our specialist advisers through flexible appointments both face to face and over the phone. "We understand that the majority of smokers want to stop smoking, but many find the task too daunting. No Smoking Day is the perfect opportunity to inspire smokers in Lincolnshire to quit for good."
Among those proud to have quit with Phoenix are:
• Geoff Griffiths, 61, from Lincoln, has celebrated his tenth anniversary since he quit smoking. He smoked for 35 years until he was told by doctors if he didn't stop, he would be on oxygen within three years and confined to his living room. He said: "I've never looked back since quitting. It wasn't easy, the first year was extremely difficult but I don't miss it. I was smoking up to 30 cigarettes a day." Geoff saved the money he would usually spend on cigarettes and treated himself to a new Ducati motorbike and six-month-old car.
• Georgina Chambers, 69, from Louth, decided to quit smoking after a stint in hospital last year. She said: "I don't get terrible cravings but I do sometimes miss having a cigarette. I know when I come off the lozenges that I will be relying on my will power but I am determined to keep going." She has had check-ups for her respiratory problems since giving up and has been told there isn't further damage.
• Helen Warren, 46, from Spalding, smoked 20 cigarettes a day until she suffered a heart attack last year and faced the prospect of missing out on watching her three children grow up. She said: "Doctors told me if I didn't stop smoking I would die. To me, leaving my kids without a mum gave me no choice but to stop smoking - they are my world and whatever other reason would I need to stop smoking?" Helen has inspired others to quit too including her sister, sister's ex-husband and his father.
To find your nearest Phoenix NHS Stop Smoking adviser please contact us on 0800 840 1533, ask your doctor or nurse for a referral, or text 'QuitCompletely' to 07786 205128.