Objective: To recruit 80 Healthcare Assistants (HCAs) through a new, targeted campaign.
Method:
The Recruitment team realised that although attracting applicants to our Healthcare Assistant posts is not an issue as the vacancies often gain 20-40+ applications, the retention rate of our newly-recruited staff could be improved.
Recruitment arranged a meeting with the Area Business Partners and representatives from our operational services to discuss the issue. A common theme emerged from the discussion, namely that some new starters are recruited to their roles without really understanding what it is that an HCA does on a day to day basis, what kind of care they are expected to give, and what being an HCA means to the patients.
Previous recruitment events focused on getting people through the doors and applications submitted. The steering group posited that a new approach was needed, focused on raising applicants' awareness of the nature of the roles themselves, so they could apply with a better understanding of what would be expected of them. On this basis, we decided to hold "Taster Days" instead of Recruitment Open Days.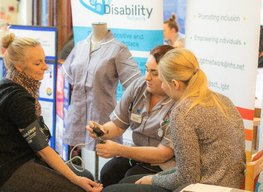 A key feature of the new HCA Taster Days is the presence of existing staff members who work as HCAs across the Trust. They talk to potential applicants about their experiences and what they enjoy about the role, and conduct demonstrations of their duties, e.g. taking blood pressure, temperature, heart rate and blood sugar readings.
Our Education and Training department are also in attendance, discussing the educational pathways potential applicants could follow if they joined us in an HCA role, including our Trainee Nurse Associate programme and Care Certificate course. Finally, we receive additional support from our BAME, Disability, LGBT+ and Religion and Belief Staff Networks, and our Staff Benefits team, who help give attendees a clearer picture of our open and inclusive Trust culture.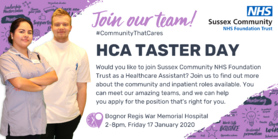 Our first HCA Taster Day was held at Bognor Regis War Memorial Hospital on Friday 17 January. We set up and advertised the day through Eventbrite as it allowed us to see the number of attendees and to stagger their attendance throughout the day into manageable slots of 2-4pm, 4-6pm and 6-8pm. We limited the tickets to 75, 25 for each time slot, and secured 44 bookings in total, with the 2-4pm selling out completely.
Over two thirds of those who attended asked to complete a job application on the day, and five people were interviewed for bank positions at the Trust.
The feedback from those who attended was extremely positive, with one attendee stating: "I found it very useful and informative. Lots of avenues to explore and lots of progression on offer. Thank you."
We will be holding a series of HCA Taster Days across the Trust, and rolling the Taster Days model out to all our services and staff groups.