Thousands of families across Torbay and South Devon will soon have access to a comprehensive collection of health information videos to guide them from preconception, pregnancy, delivery, and through to early childhood.
A team of specialist midwives at Torbay and South Devon NHS Foundation Trust – which runs Torbay Hospital – has worked on the Maternity Video Package Project with partnership organisation, Health and Care Videos, and now the full collection is ready to launch.
Over 40 maternity related videos are set to join over 400 other assured health information videos in the Trust's online video library that is easily accessed via the hospital website, or via a QR code link included in patients' maternity notes pack.
Topics and titles include 'Preparing for pregnancy if you have diabetes', 'Stopping smoking during pregnancy' and 'Having an early pregnancy ultrasound scan.'
There are also videos to cover reduced fetal movement in pregnancy, a tour of Torbay Hospital's Maternity Unit, and 'What to expect during your antenatal care.'
Preparing for birth and delivery is included, as well as postnatal contraception, bottle and breast feeding, and general baby care. The idea for the videos came from a group of newly-qualified midwives at the Trust who wanted to make improvements to the discharge process.
The videos will provide a more accessible form of information that patients can view on the go, on their phones and tablets, referring to them at home not just in hospital, and also share the information easily with other family members.
Rachael Glasson, Head of Midwifery and Gynaecology at Torbay and South Devon NHS Foundation Trust, said: "New mums and their families are often overwhelmed by the amount of paperwork they receive throughout pregnancy and upon discharge from hospital. These leaflets can often be text heavy or easy to misplace. Having important information in video format allows patients to return to them again and again, and can alleviate worries if they have perhaps forgotten what the midwife has told them."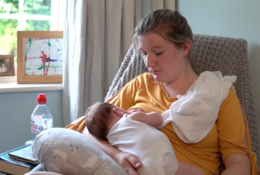 It is also hoped that, as well as better informing patents and their families, valuable time can be saved during hospital discharge to allow midwives to care for new mums and their babies, and also allow families to return home promptly.
Naomi Kelly, John Macpherson Ward Manager at Torbay and South Devon NHS Foundation Trust, added: "Currently it takes around 45 minutes to complete all necessary paperwork and ensure new families have all the information they need to safely return home with their new babies. We aim to use these simple, clinically assured information videos to not just inform patients, but also help save time here, for both midwives and the families."
This is a project that can be replicated across the UK to provide assured, accessible information and help save valuable time.
To find out more about using video in maternity pathways you can get in touch with Health & Care Videos at [email protected], or follow them on Twitter @hcvlibrary