When completing access visits through the first few months of my role in the medical team it became apparent that we regularly were assessing for Sara Stedy's (Sara Stedy®, a new enhanced standing aid, builds on the success of Stedy, a proven mobility-promoting support aid that encourages more mobile patients and residents to stand up independently. ... Provides extra stability or firm support when a patient cannot fully control leg movements) and hoists which are large pieces of equipment, often requiring two people and two tape measures.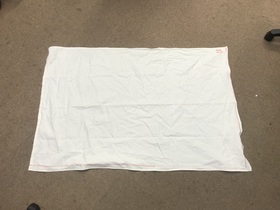 I had a discussion with my supervisor and put forward the idea of using a bed sheet/plastic sheet the same dimensions as the two pieces of equipment so that not only we could accurately assess the home environment but would also give family a rough idea on the sizing.
This was something that I had seen while on my stroke placement.
The images show the two bed sheets the size of a Sara steady and a hoist.
We now regularly use these sheets during access visits and they are also being used with other teams in our department.