This week, as we build up to July 4th and a week of activities to help you reconnect and recharge with your teams and work colleagues, we thought it would be good to look at what you can be doing at the moment to get inspired about things you could pledge.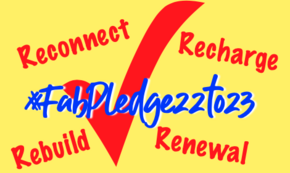 You can pledge to do things as an individual, a team, a service or an organisation.
Take a few minutes to consider:
During the last 2 years, what have you done differently that you want to continue? - Could you pledge to do some work to embed this change within your service?

Do you need to reconnect with colleagues and other services? Could you arrange a meeting, a phone call to share challenges and solutions? Could you pleage to share innovation between teams, to adapt and utilise improvements already in pace within other services? Could you pledge to find one article per week or month from the Fab website and disseminate to colleagues?
Is there an area of service provision, patient experience or staff wellbeing that you like to learn more about? Why not consider pledging to improve your knowledge and understanding in this area?
In the next 3 weeks, key clinical leaders and experts within their field will be sharing ideas and thoughts to inspire you to think about pledging within their area of speciality - for example menopause, safeguarding, trauma informed care, digital QI, inclusion and diversity, endPJparalysis, music within care and many more.

When do I have to decide and upload/share my pledge?
You have until the end of August to reconnect with colleagues, get inspired and make a pledge.
Once I've made up my mind how do I pledge?
This year we are making it as simple as possible.
We are producing a pledge form which you will be able to acces via a link/QR code, the form opens on your phone, tablet or computer. You then type in your details and your pledge and click directly on a share button - which uploads it directly for you to the website. it will be reviewed and made public on the website.
If you prefer a paper pledge template dont worry, this week we will share a Pledge template for you to print out and write on. You may then photograph your pledge, login to the website and upload via the normal system :-
1) You need to login HERE. 2) Upload your pledge HERE - you can upload up to 5 resources (a PDF, a JPEG or PNG file, link to a video saved on Youtube or Vimeo).
Prefer to do a short video on your phone or tablet explaining what your pledge will be? Thats great too and you can upload following steps 1 and 2 above.
If you'd rather just talk and explain what your pledge is then you can do so. Record a voice memo and upload the resource using steps 1 and 2
If you have an issue uploading a voice memo or video just email them to [email protected] and we can help ensure these get uploaded for you.
The key when uploading a pledge using any of the methods outlined above is that you tell us:
Your name
The name of your hospital/organisation and include the name or your ward or specific service if approrpiate.
What your pledge is about